* My mom sent me a link to this SJ-R story last week and I'm just now getting around to posting it…
The [American Political Items Collectors] national convention – a once-every-two-years event – will be in Springfield for the first time July 18-22 at the Crowne Plaza Hotel.

The non-profit membership organization is dedicated to promoting the collection, preservation and study of materials relating to political campaigns and the presidency – though the buttons, banners and bandanas can also come from races for governor or other offices.

The convention will include more than 225 dealer tables of political and historical items being bought and sold.

Part of the show – from 9 a.m. to 4 p.m. July 21 and from 10 a.m. to 3 p.m. July 22 – will be free of charge and open to the public. On that weekend, members of the public will also be able to get free appraisals of their political items and can have them auctioned at one of several sessions during the day for a commission fee.
* You can't see it very well in the pic below, but Mayor Richard J. Daley signed this 1975 campaign poster and it's one of my favorite pieces in my own personal collection…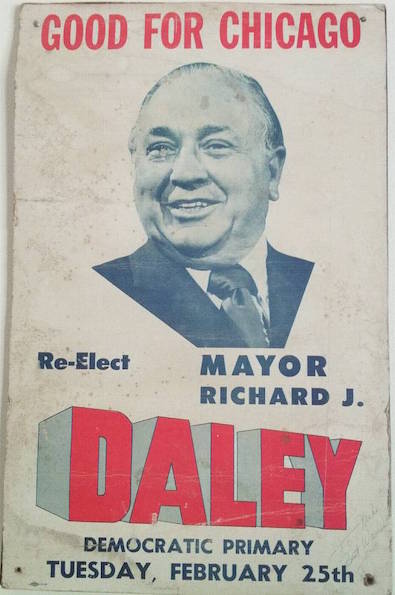 I used to have a "Honkies for Harold" button, but I somehow lost it. One day, I'll replace it.
* And this poster was, um, obtained from the Illinois GOP's state fair tent many moons ago…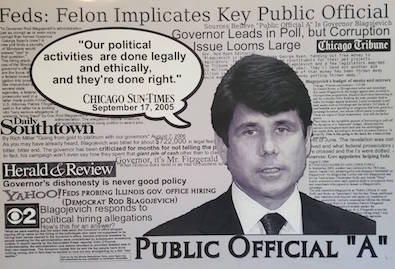 I shoulda got Rod to sign that before he went away. Oh, well. He may be out soon. One never knows.
We had an "official" Question of the Day about memorabilia years ago, but maybe you'd like to refresh our memories about your own favorite items.
30 Comments

























































































Sorry, comments for this post are now closed.