* From the summer of 2012…
Illinois Republicans gathered in Tampa for the Republican National Convention, and they've designated House Speaker Mike Madigan as their punching bag, launching the website FireMadigan.com dedicated to paraphernalia with the logo seen at right. A Madigan spokesman laughed the Republicans' gumption off, saying, "Not much success then. No reason to think their luck will change."

"We need to make a change, people recognize that," said Illinois GOP Chair Pat Brady. "We're just going to create awareness about the damage Mike Madigan's policies — or lack of policies — have done to the state of Illinois. That's a message that's really resonating (with voters.)"
* Not everyone was fully on board…
Former governor Jim Edgar says the "fire Madigan" campaign is a gimmick.

That's not necessarily bad — campaigns need gimmicks, he says … but Edgar says Republicans ought to be focusing on winning more elections.

"I'd like to see more Republicans in the legislature, and yeah, I'd like to see Tom Cross as Speaker. I'm not so — [I don't] think we ought to just concentrate on telling the Democrats they ought to get rid of Mike Madigan. That's their decision."
* The state party was also hawking "Fire Madigan" tchotchkes and clothing back then…
After coverage of our FIRE MADIGAN signs at Republican Day at this year's Illinois State Fair, we've had many people asking for FIRE MADIGAN materials so we've created this online FIRE MADIGAN store.

If you think after over 40 years in Springfield and Illinois being ranked as one of the worst states financially that it's time to Fire Illinois House Speaker/Illinois Democratic Party Chairman/Father of the Illinois Attorney General Mike Madigan, you can have a little fun helping spread the word with any of these FIRE MADIGAN products, including t-shirts, hats, bumper stickers, buttons, and signs. Check back often as more designs and products will be added in the weeks ahead!
* The items still appear to be still for sale…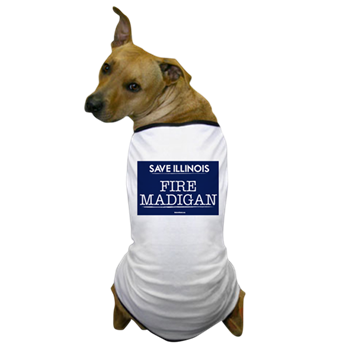 The party's FireMadigan.com website from back in the day is no longer active and the Wayback Machine and Google don't have cached archives.
* Fast-forward four years to 2016…
"When we started this, it was less about building unfavorables and more about letting people know who he is and how Springfield actually works," said Pat Brady, former chairman of the Illinois Republican Party who launched a "Fire Madigan" campaign four years ago. "Now they are trying to take that and win seats with it, and I think they are going to have success."

"It's 'Fire Madigan' on steroids because they have the resources and the funding and a lot of very smart people running these campaigns. It's a lot more well thought out and a stronger strategy than we've ever had," Brady said. "We are in a state that has been dysfunctional for so long that they are looking for someone to blame, and the speaker is an easy target. If we can get across the point that a vote for an individual Democrat is a vote for Madigan, I think that's very effective."

Others are less convinced.

"We've made Madigan an issue for years. I mean, when I was running for governor re-election, I had quadruple bypass surgery. I credited one of the bypasses to Mike Madigan," former Republican Gov. Jim Edgar quipped to a Springfield audience last month before raising doubts about the strategy targeting Madigan.
* And now today…
Together, the people of Illinois can hold their state representatives accountable by asking them to sign The People's Pledge, putting the people back in charge of state government and ending Mike Madigan's grip on power once and for all.

Visit www.FireMikeMadigan.com to learn more about The People's Pledge and get involved.
* From the brand spanking new website…
Illinois politics is rotten at its core. Dominated for decades by one man: Illinois House Speaker Michael J. Madigan.

He's amassed power at all costs, even as Illinois has suffered under his rule. Madigan will do anything to keep his grip on power, even as scandal engulfs his reign.

Enough is enough.

THE PEOPLE'S PLEDGE requires members of the Illinois House of Representative to promise to oppose Mike Madigan as House Speaker no matter what.

Even if Madigan refuses to resign, our state representatives can still take his power away by removing the Speaker's gavel from Madigan's grip.

The People's Pledge also makes sure a Madigan-like politician can never rise again by placing term limits on legislators and statewide officeholders. The People's Pledge puts the people back in charge of state government.
Thoughts?
32 Comments































































































Sorry, comments for this post are now closed.