* Shia Kapos…
This one is a doozy, even by Chicago standards: Millionaire Chicago mayoral candidate Willie Wilson handed out $300,000 in cash to attendees at a South Side church Sunday. And it gets better: According to Wilson, $100,000 of it came from Gov. Bruce Rauner.

In a video aired on WGN on Sunday, Wilson is seen holding a wad of bills and handing out a few to each person in line after a church event attended by the governor. Wilson said he put in $200,000 of the money, while Rauner pitched in for the other $100,000.

A source familiar with the foundation said Rauner did pay $100,000, but it was to Wilson's nonprofit and he was "not aware" that cash would be distributed at Sunday's event. […]

In an interview with POLITICO, Wilson insisted philanthropy — not politics — was behind the gesture and that Rauner has donated before to give money to those in need through the foundation.

"We help people that need property taxes paid and food to eat and electric bills paid and senior citizens help. We've probably done this six times over the past two or three years," said Wilson, referring to his foundation. The Chicago businessman has a rags to riches story. He's the son of a Louisiana sharecropper who worked as a janitor before becoming an early owner of McDonald's franchises. He's since expanded his business interests and runs a multimillion-dollar plastic glove distribution business.
* Sun-Times' Jon Seidel…
Republican state Rep. David McSweeney asked on Twitter, "How can Willie Wilson, a candidate for Mayor of Chicago, literally hand out CASH at a public event? This is so wrong!"

But when asked about allegations of vote buying, Wilson said, "There's no truth to that at all."

Meanwhile, Rauner is locked in his own difficult battle for re-election.

"Gov. Rauner attended a Sunday service at the New Covenant Missionary Baptist Church as a guest of Rev. Stephen Thurston," Will Allison, a spokesman for Rauner's campaign, said. "The governor has attended Sunday services at different churches across Illinois since he first ran for office, and other elected officials and community leaders are often present."
* Media advisory sent early yesterday morning by the Willie Wilson Foundation…
For more than 20 years, Humanitarian Dr. Willie Wilson has given away his heart…and his money, to those less fortunate and those who simply need a helping hand. This year, the man who puts his all into everything he does is showing no signs of slowing down. In fact, Wilson is stepping things up – bigger and better!

On Sunday, July 22nd at 10:00am, Wilson will give away $300,000 to assist struggling homeowners who are being threatened with losing their homes because of staggering property tax bills. Wilson will present the relief to homeowners at New Covenant Baptist Church, 754 East 77th Street, Chicago IL 60619 where Rev. Stephen J. Thurston is the pastor.

After nearly five years, Wilson increased his giving this year by a whopping $100,000! This increase was necessary due to the ridiculous property tax hikes that are strangling these hardworking homeowners. Wilson has vowed not to stand by idle and allow folks to get choked out under the weight of the outrageous tax hikes. He has also committed to working on getting the state tax bill rolled back from an 8-month term to a 12-month term to further help the residents. […]

More than 2,000 people are expected to attend this annual charitable giveaway. Wilson will also be assisting hundreds of senior citizens to purchase much-needed food and medication. Individuals who are a part of the Second Chance programs will also receive a "hand up" from the popular businessman. Individuals from Pacific Gardens and Sister House mission and recovery shelters will participate as well, and will receive crucial aid to help them on their way.
* WGN's Tahman Bradley…
Wilson's campaign spokesman insists today's appearance was not campaign related. But Chicago politicos on both sides of the aisle raised concerns about the event. […]

Winslow insists the campaign is not violating any campaign finance laws since it was not involved with today's handout. But the event certainly had a political feel.

During the event, Rauner also addressed the church in brief remarks. The governor shared with worshippers that he received an award from the National Black Chamber of Commerce at in event in Washington, D.C. this past Friday, and talked about his work reforming Illinois' criminal justice system and boosting education funding for schools. […]

"You pay the highest property taxes in America here in Chicago and the South Side and the south suburbs, " said Rauner. "This is wrong. The system is broken and I'm trying to fix it."
* WGN video…
I've already told subscribers my opinion about yesterday's cash dash, so I'll leave it at that.
*** UPDATE 1 *** Despite Wilson's denial that this was a campaign event, his campaign's Facebook page broadcasted it live yesterday…
Willie Wilson help those in Need regardless of race, creed, or color!

Posted by Willie Wilson on Sunday, July 22, 2018
*** UPDATE 2 *** JB Pritzker's campaign manager…
So let me get this straight. @BruceRauner, the sitting governor of the state of Illinois went to church yesterday and watched as $100,000 of his own money was handed out in front of him. #twill #ilgov

— Anne Caprara (@anacaprana) July 23, 2018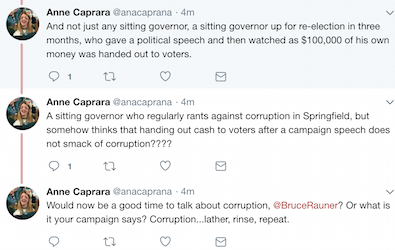 *** UPDATE 3 *** Tribune…
Illinois State Board of Elections spokesman Matt Dietrich said the fact that the money came from Wilson's foundation seems to allow him to avoid running afoul of campaign finance laws.

"As far as we can see, it looks like he didn't use campaign funds for this," Dietrich said. "And there doesn't appear to have been any quid pro quo, like, 'Here's some money, vote for me.' So from our perspective, it doesn't look like there was anything illegal about this."
53 Comments






























































































































































Sorry, comments for this post are now closed.