* WGN TV…
Reached by phone, F. Scott Winslow, Wilson for Mayor campaign spokesman, told WGN News Sunday's event was "absolutely not" a campaign event. Winslow says since Wilson launched his second bid for Chicago mayor, he's probably given away $500,000.

Winslow insists the campaign is not violating any campaign finance laws since the campaign was not involved. He said he didn't think any of the governor's money was distributed in cash Sunday, but there was no way to know how much of the governor's money was part of the hand out.

Once people contribute to Wilson's foundation "all the money gets mixed together," he said.

He also said there is a Chinese wall between the foundation and Wilson's campaign. He said they bent over backwards Sunday to avoid any appearance of vote influencing, even removing political signs from nearby yards.
A Chinese wall? Check out the main media contact listed on the press release for the Wilson Foundation's Sunday event…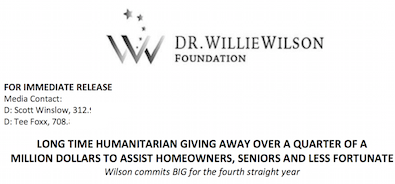 Yep. None other than Wilson's campaign manager himself. That wall has a very big hole.
* Dahleen Glanton in the Tribune…
The governor, who is facing a tough re-election campaign, knew that Wilson would be at that church on Sunday talking about tax relief. It's unclear whether he knew the checks would be handed out, too.

At a news conference Monday, Rauner said he donated money for people who were vetted through the foundation. He said he had no idea that Wilson would be handing out cash.

"Just handing out cash randomly to people, I've never done that and I think it's not a good thing to do," Rauner told reporters. "It's one thing if you're just a person and you just want to walk around and throw money. I mean, it's a free country. If you're a candidate for office, it's not a proper thing to do."

Anyone who knows Wilson, though, knows that's what he does. He gives on the spot and doesn't spend a lot of time and energy interviewing the recipients. He takes people at their word that their financial horror stories are true.
That last paragraph is totally true. And it shoulda been crystal clear to Rauner that money would be handed out if anyone had bothered to read Wilson's press release…
On Sunday, July 22nd at 10:00am, Wilson will give away $300,000 to assist struggling homeowners who are being threatened with losing their homes because of staggering property tax bills.
* Rauner didn't know that cold, hard cash would be handed out? Seems a tiny bit difficult to believe after reading this Sun-Times story…
Wilson's spokesman Scott Winslow said this isn't the first time Rauner has attended an event in which Wilson has handed out cash and checks. Winslow said Wilson has been doing it for more than 20 years.

And a Wilson campaign ad called "Helping Others" is posted on Wilson's campaign Facebook page featuring a video of Rauner crediting Wilson for being "generous." The video was posted on June 19 and features a church banner which reads "God Reigns in 2018." The campaign ad shows Wilson passing out money in a church.

Wilson's campaign said it's a "composite spot."

"The portion where he is handing cash to a member of the church was a January 15 MLK event, before he had declared himself a candidate for mayor," Winslow said.

"He's a wonderful entrepreneur. He's built his own business from scratch. He's been very successful. And he's very generous," Rauner says in the ad while the camera shows Wilson handing out cash to a man in a church. "He's taken his success and given back to the community, to help many families who need help."
* You gotta watch that ad…
Oof.
Very unfortunate editing.
* Related…
* There's nothing subtle about Willie Wilson's giveaway
39 Comments




















































































































Sorry, comments for this post are now closed.