* Facebook ad…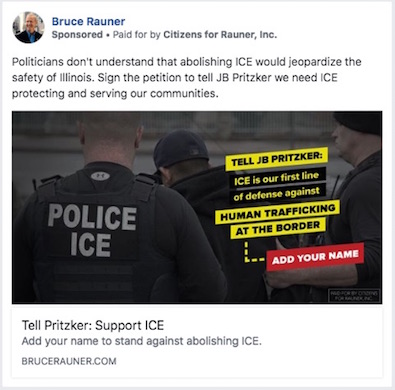 * So, I asked the Pritzker campaign where the candidate stands on ICE…
Donald Trump's administration is using ICE to separate families and communities are being forced to live in fear. This policy is contrary to what America stands for. We need real change and to do away with practices that separate families and demonize immigrants. We need to reform the culture in ICE so they're focused on violent criminals, drug traffickers, and terrorists, not families seeking refuge.

Here in Illinois, Bruce Rauner needs to stand up to Trump and sign SB 35 and enforce and strengthen the Trust Act. Not only do we need comprehensive immigration reform, but we also need a governor who is willing to stand up to Donald Trump.
SB35 is the "Immigration Safe Zones Act." Click here for a summary. Make sure to read the amendments, which narrowed it. The bill has been on Gov. Rauner's desk for almost a month.
30 Comments

























































































Sorry, comments for this post are now closed.