* From a Third Coast Review reporter about a Chicago mayoral candidates' forum this week…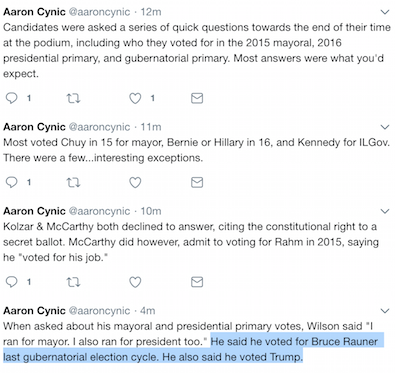 Donald Trump got 12 percent of the vote in Chicago. Bruce Rauner got 21 percent (which might be more than he'll get this time).
I'm not seeing an easy path here.
* Other stuff…
* Horner Park Mayoral Candidate Forum Kicks Off 2019 Mayoral Race: LaRaviere was far from the only candidate who leveled populist criticism at Emanuel, particularly at his penchant for siphoning money and resources from neighborhoods and social programs and handing them over to corporations looking to move to the Loop or another rapidly gentrifying neighborhood. "There doesn't seem to be a sense of urgency in this administration that we need to be better stewards of our tax dollars," said former Police Board President Lori Lightfoot. Businessman and former 2015 mayoral candidate Willie Wilson said that tax dollars should "represent neighborhoods" and be a reflection of those communities, not just downtown. Public policy consultant Amara Enyia, who was also a brief contender in the 2015 mayoral race before being pushed out thanks to a petition challenge by Wilson also hit the mayor with a tale of two Chicago's comparison.

* Should Lightfoot's GOP work be an issue in mayor's race?: Lightfoot made her own charge in the interview, saying that if Emanuel supporters are so worried about cozying up with Republicans, the mayor ought to return a $50,000 campaign contribution he got from Trump in 2010 and not take large contributions from another prominent Republican, Citadel's Ken Griffin. Still, "he has the audacity to challenge my beliefs."

* 'Why should I stop helping people on the street?': Mayoral candidate Willie Wilson responds to cash giveaway

* Rauner proximity to giveaway bad form

* Bill Cameron: 'I don't think Willie Wilson is a crook'

* A Chicago mayoral candidate hands out cash. So what's wrong here?
8 Comments























Sorry, comments for this post are now closed.