* Sun-Times…
A West Side Democrat says Mayor Rahm Emanuel should work more closely with President Donald Trump to bring resources to Chicago to combat the gun violence epidemic — declaring that the city isn't a "Trump-free zone."

Appearing on Fox & Friends on Monday morning, state Rep. La Shawn Ford, D-Chicago, said Emanuel should work with Trump to help the communities most affected by violence. Weekend shootings left 12 dead and 59 others wounded and brought Chicago once again in the national spotlight for gun violence.

Much of the violence happened in the West Side in Ford's 8th House District. Ford told the Sun-Times three people were shot, one fatally, just steps from his church at 7 a.m.: "That's unbelievable," he said.

The lawmaker took to Republican friendly airwaves to push the mayor to work with the Republican president, despite Emanuel's longstanding legal and political battle against Trump. Emanuel's feud against Trump in a Democratic city is considered a no-risk battle to try to rebuild the mayor's national image and his popularity among Chicago Hispanics most threatened by Trump's immigration policies, and by the president's threat to cut off funding to sanctuary cities.
* Daily Caller…
"It is clear that the Chicago police department is not trusted with the mass genocide that's happening on the streets of Chicago," Ford said. "You can't get the cooperation with the citizens in the community to help solve the crimes. Chicago right now, has more unsolved crimes than they do solved crimes. And so what we have to do is make sure that there is some trust between the Chicago police and the community and that's not happening."

Ford urged law enforcement to respect the people living within the affected communities and said President Donald Trump needs to step in and help.

"You have to be fair. You have to be honest. And you have to make sure that you're respecting the people that you patrol," Ford continued.
* The interview…
* A bit of perspective…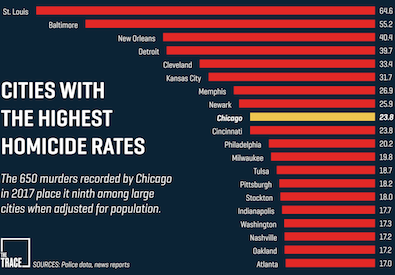 26 Comments













































































Sorry, comments for this post are now closed.