* The Southern…
Longstanding political dialogue in Illinois is that downstate Illinois does not receive its fair share when it comes to a return on state funding and resources.

While there is not an equal funding distribution across the state, research by the Southern Illinois University Carbondale's Paul Simon Public Policy Institute shows that despite heavy rhetoric, the downstate region receives more than it pays into the state coffers. The best deals are received in central Illinois and Southern Illinois. […]

The research breaks the state's 102 counties into six specific regions, including Cook County, a five-county suburban section that surrounds Cook County, and the 96 remaining downstate regions, which are subdivided into north, central, southwest and southern regions.

The research shows the south region receives $2.81 in state funds for every $1 generated. The central Illinois region of 50 counties receives $1.87 back for every $1.00 sent to Springfield. All of the downstate regions receive more from the state budget than they pay in taxes. By comparison, Cook County receives 90 cents for every $1, and the suburban counties only 53 cents for every $1 generated.
The study is here. And here's the map…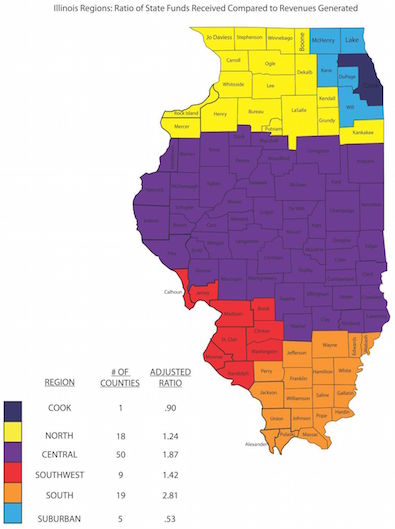 21 Comments






























































Sorry, comments for this post are now closed.