* I discussed this with subscribers today, so we'll just stick with what's already been posted. Tribune…
Helene Miller Walsh, the wife of conservative radio host and former GOP U.S. Rep. Joe Walsh, has been picked to fill the state House vacancy of a former Republican lawmaker who stepped down after being accused of sending an ex-girlfriend's nude photos to other men online.

Nick Sauer, of Lake Barrington, resigned from his Illinois House seat this month after the accusations surfaced in a Politico report. Local Republican officials on Saturday chose Walsh to replace Sauer both in the General Assembly and on the November ballot.

Now, Walsh faces the potentially difficult task of building a campaign in the short few months before the election. She will run against Mary Edly-Allen, a teacher from Libertyville, in the race to represent a central and southern Lake County district in the state legislature.
* Daily Herald…
"I'm really angry about what's going on in this state," Miller Walsh said. "People are leaving and have already left. I'm tired of what's going on."

She also said that, as a legislator, she wants to help the black community. Miller Walsh is a five-year advisory board member at Project H.O.O.D., an inner city nonprofit organization started by Pastor Corey Brooks in 2012 to help people become peacemakers, problem solvers, leaders and entrepreneurs in their communities.

"We all want the same thing, ultimately," said Miller Walsh, a lifelong Chicago-area resident. "We all want to be able to live our lives with a lot less government interference. And we are responsible for ourselves. We're no different up here in Mundelein than they are on the South Side (of Chicago)." […]

"When people came to her, she said to me, 'You know what, I've got a chance to do my part to fight for Illinois,'" [Joe Walsh] said. "I think she'll make a great candidate because she's the epitome of a citizen legislator. She ain't a professional politician, that is for sure."
* I tweeted about this over the weekend…
Local GOP announcement https://t.co/630kULm7iT pic.twitter.com/8B07HlNKD2

— Rich Miller (@capitolfax) August 19, 2018
Democrat Adam Didech slams appointment of Helene Walsh to the Illinois House. Ouch pic.twitter.com/QCjFzr0b2P

— Rich Miller (@capitolfax) August 18, 2018
— Rich Miller (@capitolfax) August 18, 2018
— Rich Miller (@capitolfax) August 18, 2018
*** UPDATE *** It's noted above that she is an advisory board member to Pastor Corey Brooks' Project H.O.O.D. But check out this Facebook post…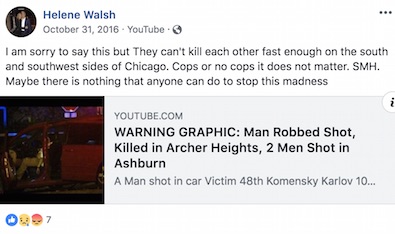 62 Comments

























































































































































































Sorry, comments for this post are now closed.