* Ouch!…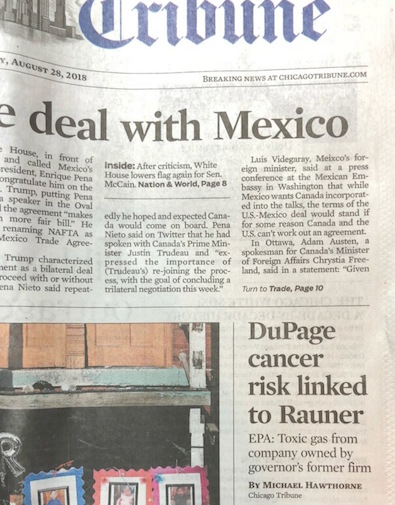 "DuPage cancer risk linked to Rauner" has to rank right up there as one of the worst headlines the guy has ever received.
* The online story's hed is less harsh, but still not great: "High cancer risk in southeast DuPage County linked to company co-owned by Rauner's former firm." From the piece…
Two low-slung industrial buildings, tucked behind a Target store in west suburban Willowbrook, are about as nondescript as they come. For years, they have been home to Sterigenics International, a company that has quietly gone about its business of fumigating medical instruments, pharmaceutical drugs and food to kill bacteria and pests.

But a new federal study is putting a bright spotlight on the company, finding that people living nearby face some the nation's highest cancer risks from toxic air pollution.

A gas used by the company, ethylene oxide, is far more dangerous than previously thought, according to the U.S. Environmental Protection Agency. In one census tract near the plant, the EPA estimates the risk of cancer is more than nine times the national average.

Another federal agency concluded the cancer risks could be significantly higher.

Federal officials began investigating Sterigenics last year after surrounding communities popped out on a national map of health hazards from breathing toxic chemicals.
You have to scroll six paragraphs down to find the first mention of the governor's former firm.
* However, this is from the Willowbrook Village website…
The emissions of ethylene oxide from the Sterigenics International, Inc. facility in Willowbrook, IL are not an immediate threat to public health and are not considered to be an emergency situation. ATSDR recommended to U.S. EPA that actions be taken to reduce emissions of ethylene oxide from this facility to protect the public from long-term exposures that could harm their health. […]

The highest measured levels of ethylene oxide in those areas were about 1,000 times lower than levels associated with cancer risks in scientific studies of workers with industrial exposure to EtO.
Emphasis was in the original.
…Adding… Sen. John Curran (R-Downers Grove)…
"The residents of Willowbrook and I have deep concerns, and many questions, about the recently released toxicity report from the Agency for Toxic Substances and Disease Registry (ATSDR) regarding the air quality in our community. The health and well-being of our residents is my number one concern and priority. Therefore, I have demanded that Sterigenics and government agencies involved in this matter attend the public forum being held Wednesday night so we can have all our questions answered. I am pleased all parties have agreed to attend, and I would encourage residents with questions to attend as well. It is vital that we have all the information available so we can best mitigate this issue in order to reduce any long-term impact on our community. We cannot delay, we must act now."
*** UPDATE *** The governor was asked about the story today…
.@govrauner on @scribeguy story of chemical used by a suburban company posing heighted risk: the federal government created a scare, cautions "this is not a public health crisis," we will work to monitor and manage risk https://t.co/u9GoqYpj7T

— Amanda Vinicky (@AmandaVinicky) August 28, 2018
29 Comments






















































































Sorry, comments for this post are now closed.