* Handed out at the Indivisible Chicago event last night attended by JB Pritzker…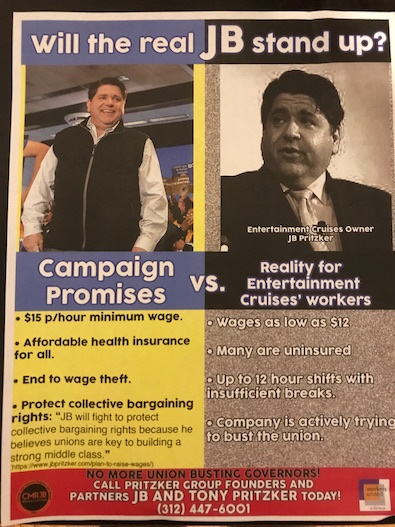 Background is here. Chicago and Midwest Joint Board of Workers United is part of SEIU, which has endorsed Pritzker.
* Related…
* Employee Accuses Pritzker Group of Union-Busting: "If he's going to be a businessman and politician who's campaigning on a progressive platform, you've gotta prove that you're progressive in your business as well," Dean said Thursday. "He campaigns on unionizing. He says unions are a great thing, they're what built the middle class. He wants to campaign on collective bargaining rights. And he's actively union-busting at his own company."
*** UPDATE 1 *** A commenter pointed to this video of workers confronting Pritzker yesterday…
* From the main organizer…
Some people from @CMRJBWU spoke to @JBPritzker on our behalf. https://t.co/LeWXXdxpgp He's receptive, but the fight is not over at all. Now we have to work on countering the rumor campaign run by @EntertainCruise and @SeadogNavyPier. I work 9am-midnight tomorrow so need your help

— Billy Dean (@BullyJDean) August 31, 2018
*** UPDATE 2 *** The person who runs the day to day operations of this little company really ought to have his or her head examined. I mean, nobody over there stopped to think that maybe, just maybe fighting a unionization effort might damage the guy who pays all the bills? Anyway, it appears the message finally got through what must be a very thick skull…
At Entertainment Cruises, we know our shipmates make our company great, and we are committed to open and transparent dialogue with our employees. We support the right of our shipmates to engage in organization activities and to make sure that all voices are heard in that effort. If a petition is filed with the NLRB, the NLRB's process provides a fair mechanism for employees to vote in a secret ballot election. Entertainment Cruises respects this right and will conduct itself throughout the process with integrity and fairness.
*** UPDATE 3 *** From Kathy Hanshew, Manager of the Chicago and Midwest Regional Joint Board, Workers United/SEIU…
We are deeply disturbed by the Pritzker Group and Entertainment Cruises' response to the SeaDog workers' recent demand for union recognition. Sending workers seeking workplace justice and union representation to Donald Trump's NLRB for a fair process is akin to sending undocumented immigrants to Donald Trump's ICE for a fair process. It's a horrible idea.

Pro-union Democrats, including both Hillary Clinton and Bernie Sanders, support the Employee Free Choice Act or EFCA. EFCA would mandate that private sector employers recognize a union based on a simple authorization card count or card check. Bosses love NLRB elections because even though a solid majority of Americans approve of unions, only about 8% of Americans actually belong to them. The Millionaire and Billionaire class and the NLRB are to blame.

We continue to demand that JB and Tony Pritzker and Entertainment Cruises work out a fair process for organizing so that their workers gain union recognition through a simple card count. This was the process recently used by TRONC when employees decided to organize at the Chicago Tribune, and it will work just fine for Entertainment Cruises workers out at Navy Pier.

Will the real JB Pritzker please stand up?
*** UPDATE 4 *** I agree with the gist of this take…
Yeah, this is still Union busting. We are a seasonal company, and will be losing most of our staff over the next few weeks. A delayed vote is literally their only chance to still shut us down. In the meantime, they will continue their campaign of lies, rumors and intimidation.

— Billy Dean (@BullyJDean) September 1, 2018
53 Comments






























































































































































Sorry, comments for this post are now closed.