* I'm told that every two years for the last ten or so years, at least one Democratic lawyer has called the Kendall County Clerk to object to this notice to voters to "be prepared to present identification to the election judge"…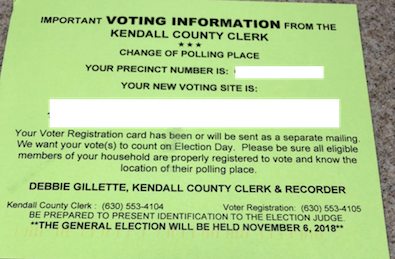 Whether you agree or disagree, Illinois voters are not required to show identification at the polling place. You show ID when you register and your signature is essentially your ID when you vote. Identification requirements have often been used to suppress the votes of poor people.
* I called Clerk Gillette (a Republican) and asked her why she warned voters about being prepared to present ID. "We always say that just in case the [election] judge has a problem or an issue, can't find a name," she said. "It's not that they're required to show it. Just have it on you just in case something comes up."
That's apparently the same response she has given the Dem lawyers in the past (with the same very pleasant demeanor). I asked the state party's new executive director for comment…
"Kendall County's misleading flier on voter identification requirements is troubling and is the first step on the road to voter suppression in Illinois," said DPI Executive Director Christian Mitchell. "Free and fair access to the polls is a fundamental right across the country and we need public officials who recognize that and encourage voter activity. The Democratic Party of Illinois will work across the aisle to ensure voters have the information they need to exercise their rights and will always stand firmly against voter suppression."
* I also checked in with the Illinois State Board of Elections. Spokesperson Matt Dietrich chose his words carefully. Election judges "can't systematically require everyone to show ID," he said. Voters can use ID to prove who they are if they're challenged, so the clerk's recommendation to bring identification was within the law.
"But it's a little bit questionable about, for the reason you're calling me, because of the signal it sends," Dietrich said. "It's a little surprising that it's on there."
* The Question: Did the county clerk make a legitimate suggestion or was it a subtle form of voter suppression? Take the poll and then explain your answer in comments, please.
survey solutions
Also, a Republican commenter originally sent me the flier. This isn't oppo.
49 Comments


















































































































































Sorry, comments for this post are now closed.