* Tribune…
The Chicago Teachers Union has a new president and vice president.

Jesse Sharkey has officially taken over the labor group's top post for the time being, following a Wednesday vote from the union's governing body. The new vice president is Stacy Davis Gates, formerly the union's political director.

The shift in leadership follows the retirement of former CTU President Karen Lewis, who announced her departure in June amid continued health problems. That cleared the way for Sharkey's formal takeover of the union's top job and Davis Gates' nomination to replace him as second-in-command.

Both leaders will be running for office again soon, as union officers are expected to face some competition in an election by the entire CTU membership next year.
Sharkey and Bruce Rauner appeared on WTTW together after the 2012 teachers' strike and had a memorable debate. Click here to watch it. Explains a lot about both men.
* Sharkey during the strike…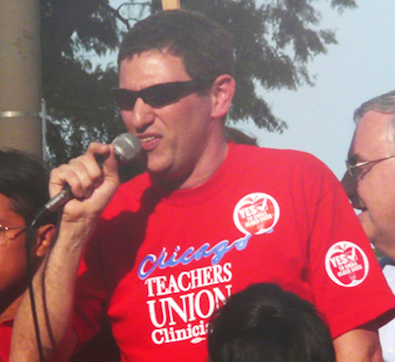 28 Comments



















































































Sorry, comments for this post are now closed.