* ABC 7…
Thousands of workers at downtown hotels went on strike Friday morning.

Workers walked out at about 5 a.m. The workers include housekeepers, servers, cooks and doormen.

"Hopefully it's going to be difficult," said Carolina Sanchez, a Hyatt Regency banquet server. "Hopefully the managers have to do our jobs so they know how it feels."

Jessica Ramos has been a housekeeper for the Hyatt Regency Hotel along Wacker Drive for five years. The mother of four is fighting alongside her colleagues demanding year round health care.
* The Pritzker family owns the Hyatt, of course, so I asked the JB Pritzker campaign for a response…
JB stands with the labor movement across Illinois in the fight for better wages, benefits, and working conditions. While JB has never had a management or leadership role in Hyatt, he hopes all parties will negotiate in good faith and that a fair contract can be reached as soon as possible. As governor, JB will work to put Springfield back on the side of working families and will always defend the rights of working people to come together and demand a better future.
* Striking Hyatt workers…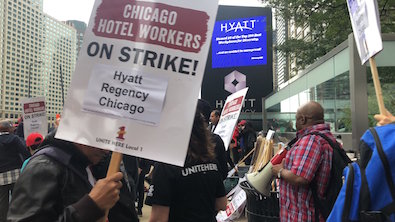 * Excerpt from Hyatt's statement at WGN's site…
Hyatt has a long history of strong relations with the unions that represent its colleagues. Hyatt and UNITE HERE have already come to successful agreements this year in other markets, and we will continue negotiating in good faith in Chicago.
* Sun-Times…
Union members voted on Aug. 15 to authorize a strike anytime after the end of the month, when their contracts expired. A total of 3,218 members, or 97 percent of those who participated, voted to allow the negotiating committee to call for a citywide strike, according to the union's Twitter page.

Negotiations were scheduled to continue throughout September, according to a statement Friday morning from Hyatt's Vice President of Labor Relations, Michael D'Angelo.

"We just completed our second negotiation meeting with Local 1 last week, where the union provided multiple proposals for the first time and indicated more will be forthcoming," D'Angelo said. "Colleague benefits and wages remain unchanged as we negotiate a new agreement."
* Tribune…
Collective bargaining agreements at 30 hotels expired Aug. 31, and the union began threatening a strike weeks beforehand. Each hotel brand negotiates separately with the union.

Among workers' demands, according to the union, are reasonable workloads, wages that keep up with the cost of raising a family and year-round health care.

"Hotels may slow down in the wintertime, but I still need my diabetes medication when I'm laid off," Q. Rivers, a house attendant at the Palmer House Hilton, said in a union news release announcing the strike. "Nobody should lose their health benefits just because it's cold out."

Several hotels, including the Hyatt and Kimpton chains, have said contingency plans were in place in the event of a strike so service at hotels would not be disrupted.
The full list of hotels that have been struck and a list of those which could be in the near future are on the union's strike website. Workers at the Park Hyatt Chicago have not yet walked out, but could.
…Adding… Oppo over the transom…
This "Super-Voting" Stock Allowed The Pritzkers To Maintain Control Over Hyatt Even If Their Ownership Of The Company's Outstanding Shares Fell Below 50%."Hyatt Hotels Corp. is likely to see "outsized profit growth" over the next decade, but the Pritzker family's tightfisted control over the underachieving hotel chain should make investors wary of its initial public offering, a prominent real estate stock research firm said Wednesday. The proposed IPO could raise about $1 billion for Chicago-based Hyatt, the crown jewel of the billionaire family. Pritzker family trusts plan to sell 38 million shares for as much as $26 apiece, according to a filing last week with the Securities and Exchange Commission. But the family plans to retain its grip on the company through so-called "super-voting" stock, which would allow the Pritzkers to outvote other common shareholders even if the family's stake falls to nearly 15%." (Thomas Corfman, "Hyatt's Corporate Structure Criticized In Report," Crain's Chicago Business, 10/29/2009)

JB Pritzker Agreed To Vote His Super Shares In Line With The Recommendations Of Hyatt's Board Of Directors. "Until the later to occur of (i) January 1, 2015 and (ii) that date upon which more than 75% of the FD Stock is owned by Persons other than Pritzkers and Foreign Pritzkers, all Pritzkers (and their successors in interest, if applicable), but not the transferees by sale (other than Pritzkers or Foreign Pritzkers who purchase directly from other Pritzkers or Foreign Pritzkers) or by, or following, foreclosures as aforesaid, will vote all of their voting securities of Hyatt (and successor Companies) consistent with the recommendations of the board of directors of Hyatt with respect to all matters (assuming agreement as to any such matter by a majority of a minimum of three Independent directors or, in the case of transactions involving Hyatt and an Affiliate thereof, assuming agreement of all of such minimum of three Independent directors). All Pritzkers will cast and submit by proxy to Hyatt their votes in a manner consistent with this Section 3.1(c) at least five business days prior to the scheduled date of the Annual or Special Meeting of stockholders of Hyatt, as applicable." ("Amended and Restated Global Hyatt Agreement," Hyatt Hotels Corporation, 10/1/2009)
*** UPDATE *** Look who showed up at the Hyatt Regency…
Have cookies, will picket. Great energy with the folks from @UniteHerelocal1 & @DanielBiss #ChicagoHotelStrike pic.twitter.com/x2e14PjVFX

— Rep. Kelly Cassidy (@RepKellyCassidy) September 7, 2018
40 Comments »























































































































Post your comment... And please take a half second to come up with a nickname. It makes following the posts easier for everyone... Thanks