A hat that purportedly but not provably belonged to Abraham Lincoln is off the display list at the Abraham Lincoln Presidential Library and Museum pending review of the artifact's provenance that has been in question for years.

The announcement by the museum that the hat, which is not on regular exhibition, won't be taken out for public viewing until provenance is reviewed comes in the wake of a Wednesday report by WBEZ radio in Chicago, which revealed that the private foundation that owns the hat engaged in secret efforts to prove that the hat is authentic. The efforts, which involved DNA analysis by the Federal Bureau of Investigation and top historians from the Smithsonian Institution and the Chicago History Museum, failed to verify that the hat is real. […]

According to the WBEZ report, the private foundation's verification efforts began in 2013 and were kept secret from the public institution, although ALPLM curator James Cornelius was in the know. When federal agents visited the museum to collect DNA samples from the hat and other Lincoln artifacts in 2015, Cornelius encouraged them to present themselves as a "news crew" upon arrival, according to the station's reporting. […]

Cornelius was terminated on [Tuesday]. Wills declined comment when asked why. Cornelius could not be reached for comment. The curator had been on administrative leave since last spring. The museum has refused to release records showing why he was put on leave and why he was suspended last year for insubordination. Illinois Times, which had previously been granted Cornelius' disciplinary records, sued the ALPLM in July under the state Freedom of Information Act to obtain the records. The lawsuit remains pending.
* Meanwhile, after reading Dave McKinney's piece about the massive mess that is the not-for-profit Abraham Lincoln Presidential Library Foundation, I took a look at its filings with the Illinois Attorney General's office. The latest info online is for 2015, but check this out…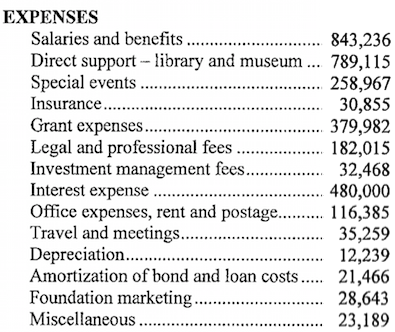 So, they spent more on salaries and benefits than they did on direct support for the Abraham Lincoln Presidential Library and Museum.
40 Comments























































































































Sorry, comments for this post are now closed.