* Rep. Cabello's Facebook page…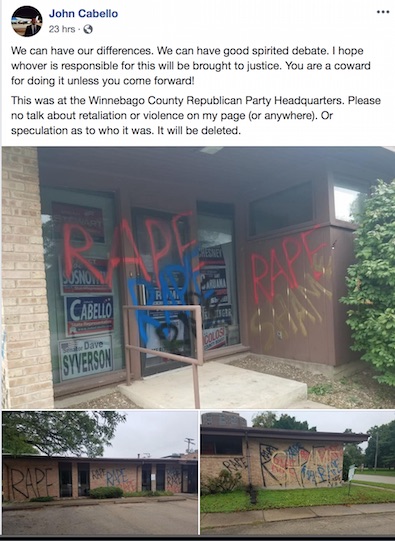 * WREX TV…
Disturbing graffiti covers the walls of the Winnebago County Republican headquarters in Rockford this weekend.

The vandalism appeared Sunday morning with the words 'rape' and 'shame' painted on the building.

Local Republicans believe the graffiti is directly connected to the hearings of Supreme Court nominee Brett Kavanaugh and his accuser Dr. Christine Blasey Ford. […]

Winnebago County Board Chairman Frank Haney released a statement, saying in part, "This is not who we are. I am extremely disappointed in the individual responsible for the ugliness at our local Republican HQ. Clearly, this person needs help. As a Republican, I am saddened and angry. I am also sad to see other folks in my party unfairly labeled and mischaracterized. Negative generalizations about a group of people has never served us well as a country. This situation is no different. Attacks of this nature aim to silence and destroy, neither of which will occur."

Rockford Mayor Tom McNamara, a Democrat, also posted a statement about the vandalism on Facebook writing "This type of behavior is unacceptable and certainly does not live up to our community's values. We all have differences but we must learn to disagree on policy without attacking people."
* Charlie Laskonis, Chair of the Winnebago Democratic Party…
Regardless of one's partisan preferences, if any, Winnebago County is first a community. Elected Democrats and Republicans work together to improve our way of life. Our children go to school together, we patronize one another's businesses and we all want the best for the future. Criminal vandalism is not how we express the differences of opinion in our community.

I'm disgusted at the vandalism and view it as an act at intimidation. Through direct correspondence, I have offered to Winnebago GOP Chair James Thompson the willingness of Democrats to help in the quick clean-up of the damage. In addition, I encourage anyone, with even the smallest bit of information, to take it to law enforcement immediately.
I'm told Laskonis sent a note to the county GOP chairman before issuing the press release.
* Doug House, president of the Illinois Democratic County Chairs' Association…
The act of destruction in Winnebago County is unacceptable and unforgivable.

Whoever is responsible for this callous, cowardly criminal act should know that they will find no welcome mat in our county Democratic parties. What was done in Winnebago County lacks logic or sanity and anyone who has information regarding the criminals should contact the authorities immediately.

I urge all candidates, activists, volunteers, partners or self-affiliated alliances within our party to take a moment to reflect on the very clear line between disagreement and destructive indecency. If your passions lead you to consider the destruction of property or harm to another person, you are unquestionably wrong.

County-level political organizations – Republicans and Democrats alike – rightfully cherish their offices and campaign headquarters with pride. These are places where we come together to exercise the freedoms of our democracy among our like-minded fellows. Destruction and vandalism are acts of senseless intimidation and small-minded intolerance that we condemn on the highest order.
Again, take a very deeep breath and then completely exhale before commenting, please.
35 Comments








































































































Sorry, comments for this post are now closed.