* Saturday…
Susana Mendoza for Mayor petitions in full force at #WomensMarchChi … even though Mendoza has not entered and is in the midst of a battle for IL Comptroller pic.twitter.com/8RBizMa8pt

— Paris Schutz (@paschutz) October 13, 2018
* I also received a photo of this person's clipboard. The photo I have came from the Daley campaign, but it didn't include the 1060 W. Addison address (Wrigley Field), so it apparently was from slightly earlier in the day…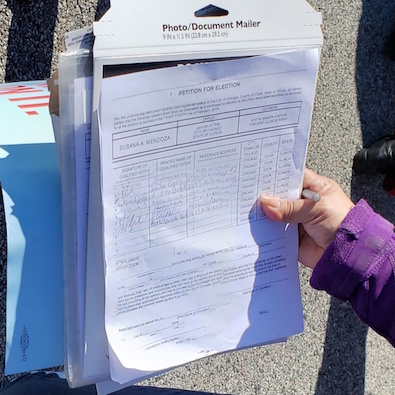 * Sun-Times…
Supporters of Susana Mendoza have begun circulating nominating petitions to get her on the ballot in the crowded race for Chicago mayor — but the Illinois comptroller still insists she's only focused on the reelection campaign to keep her current job.

The petitions were passed around Saturday at the downtown "Women's March to the Polls" by volunteers from a committee formed last month to "draft" Mendoza to run for mayor, an effort led by former U.S. Civil Rights Commission chairman Marty Castro.

A Mendoza spokesman declined to comment on Saturday. Mendoza has said she's "flattered" by calls for her to jump in the race, but is "entirely focused on her reelection campaign as comptroller."
* ILGOP…
When asked on October 3rd if she would run for Mayor, Susana Mendoza responded, "I'm not lying to you when I tell you I'm not even close to making a decision on that." Just 10 days later, reports surfaced of petitions being circulated for Mendoza's Chicago mayoral run. Illinois Republican Party Executive Director Travis Sterling issued the following in response:

"Just 10 days ago Mendoza told journalists that she wasn't even close to making a decision on running for mayor, but today her campaign is circulating petitions to run for Mayor next year. One principle has held true during Mendoza's 17 years in public office - she has always put her own advancement first. Mendoza's current deceptions and lies are obvious proof points to her continuation of putting her own self-service ahead of public service." - Illinois Republican Party Executive Director Travis Sterling
* Related…
* Republican comptroller candidate says she would 'commit to Illinois': "She should be fair with people and commit to Illinois, and right now what's happening, the firm commitment is not to Illinois," Senger said. "Her commitment has always been … to her ambition and the city of Chicago. She's from Chicago. She's been a state representative under (Speaker of the House Michael Madigan) for 10 years, she was the city clerk of Chicago and now comptroller, so I'm looking at this as a situation where we're really not rolling up our sleeves and getting the work we need to get done in the state of Illinois."

* Republican Candidate for Illinois Comptroller visits Quincy: Senger said Mendoza seems to be more interested in running for Mayor of Chicago instead of running for re-election, commenting on a recent ad from her. "Really a different kind of ad at this phase in the campaign, it's all about 'I'm hard as nails', she wears a shirt that looks like the flag of Chicago, so in appearance it looks like she's trying to get her name out there running for mayor already," said Senger.

* Illinois comptroller candidate: Susana Mendoza: Mendoza said she has not decided if she will run for mayor of Chicago. Current Mayor Rahm Emanuel recently annouced he would not run for re-election. Mendoza could win comptroller and still have time to file papers to run for mayor by the Nov. 26 deadline. The Chicago municipal election is Feb. 26.
40 Comments























































































































Sorry, comments for this post are now closed.