* From the lawsuit against the Pritzker campaign…
DeJuan Jackson, as a Regional Field Director, used to take many of the complaints of racial discrimination and harassment related to POD 4 to higher ups on behalf of the organizers.

However, in exchange for his silence, he was given a shiny new job title and pay raise. He was also strongly encouraged to cut his dreadlocks; therefore, he no longer comes across as crass and was the least offensive African American that could be put in that spot.
I reached out to Jackson, but didn't hear back. I also asked the campaign for a statement because the lawsuit's claim seemed so weird. They flatly denied that anyone told Jackson to cut off his dreads.
* And now we have this from Jackson's Facebook page…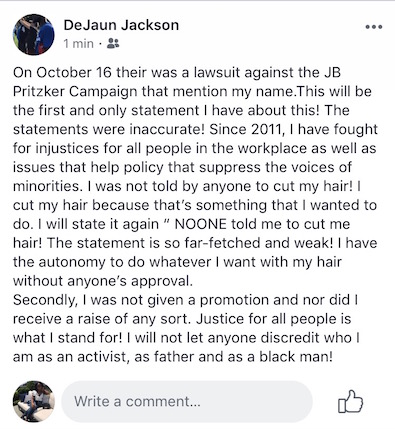 Pretty darned strong. That claim was just insulting on its face, so I'm glad he responded.
* Meanwhile, remember this tweet from one of the plaintiffs about an event the day her lawsuit was filed?
Had an amazing event tonight @Step Down Cafe #Pilsen #ChicagoProud #Bluewave#TeamJb. @JulianaforLG @JBPritzker pic.twitter.com/1dazBgIJ4E

— Celia Colón (@CeliaColn1) October 17, 2018
* ABC 7 followed up…
"I think the policies and practices that were put forth during the campaign have racial undertones and that my clients have been discriminated upon based on those policies," said attorney Shay Allen.

Yet in a tweet posted by one of the workers in the lawsuit, Celia Colon wrote, "Had an amazing event tonight," seeming to refer to an event the same day the lawsuit was filed.

When asked why eight of the plaintiffs are still working for their campaign, Allen said "even though the situation is horrible, they're powering through it" so they can finish what they started.
48 Comments















































































































































Sorry, comments for this post are now closed.