* JB Pritzker's Deputy Get Out The Vote Director recently posted this photo on Instagram of a fellow Pritzker campaign worker…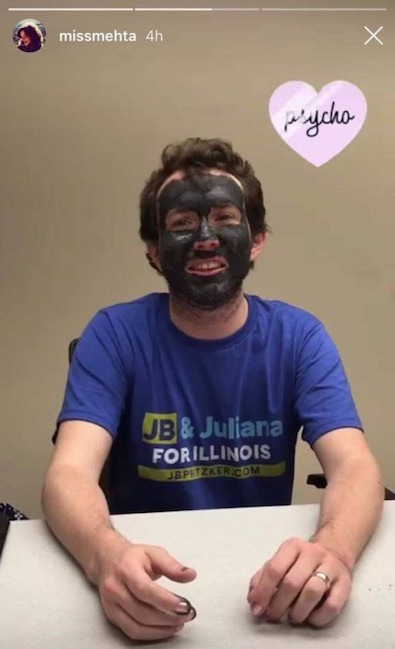 What a stupid thing to do. Your campaign is being sued for racial discrimination and you pose for this photo and a top official posts it online? I don't care if it was a charcoal face mask. Nobody thinks over there? What's the opposite of "woke"?
A campaign worker for Democrat J.B. Pritzker was captured earlier this week wearing a charcoal face mask that resembles blackface in an Instagram post by another campaign employee. But the campaign insists the incident was not racial in nature and that the employees in question will be suspended without pay for exercising poor judgment. […]

The post was part of an Instagram story put up October 21. Instagram stories feature photos or videos and last just 24 hours but can be preserved or copied. The Sun-Times obtained the image Thursday night. […]

Asked about the picture, Mehta told the Sun-Times in a Facebook message: "It was a charcoal face mask." […]

"The individual in the photo had applied and was wearing a charcoal face mask after work hours on the weekend. A fellow employee took a video and posted it on Instagram," Pritzker campaign spokeswoman Galia Slayen said in a statement. "While it showed poor judgment, neither employee intended to take part in offensive behavior. However, given the poor judgment exercised here, both the individual in the photo and the individual who posted the photo will be suspended without pay."

In their response, the Pritzker campaign provided a video of the man putting on the face mask, with others nearby laughing. The video was provided on the condition that it not be published.
The reckless ignorance of some white people just boggles my mind.
…Adding… Somebody made a good point in comments about how it wasn't just these two staffers. Other campaign staffers watched and laughed as this whole thing unfolded. Not one of them said anything? Nobody in that group thought to say, hey, maybe people could think this is racist and we should stop right now?
128 Comments































































































































































































































































































































































































Sorry, comments for this post are now closed.