[Comments are now open on this post.]
* You'll recall this story…
State Rep. Tom Morrison on Thursday retracted his earlier letter of support for a Christian teacher and pastor convicted of aggravated assault for severely spanking children in Arizona.

The letter from Morrison, a Palatine Republican seeking re-election to the 54th House District seat, was among 16 provided to a judge ahead of Thomas Chantry's sentencing last week.

Chantry, 48, was found guilty in August by a Yavapai County, Arizona, jury of two counts of aggravated assault. He was sentenced Oct. 19 to three years of supervised probation and 100 hours of community service. He's also barred from interacting with children other than his own.
* His opponent Maggie Trevor (D-Rolling Meadows) has a new TV ad about the case…
* Secretary of State Jesse White's TV ad…
* From southern Illinois near the Trump rally location…
Where out politics stand in IL…someone has placed "bought and paid for by Mike Madigan" signs next to local county clerk and treasurer candidates….What? @capitolfax @WSILNews #Vote2018

— Jeffrey Weinrich (@producerjeff) October 27, 2018
UPDATE: Signs I referenced earlier. Looks like wind blew them flat. "Bought and Paid for by Mike Madigan" signs next to Jackson Co. Dem. Clerk candidate. @WSILNews @capitolfax pic.twitter.com/85yTP2Irxl

— Jeffrey Weinrich (@producerjeff) October 27, 2018
* Speaking of Madigan…
JB Pritzker transfers $2 million to the Democratic Majority, which is chaired by Speaker Michael Madigan. Pritzker has now pumped a total of $5 million into the committee this election cycle. #twill https://t.co/jXB4fpZL28

— Reform For Illinois (@Reform4Illinois) October 27, 2018
* Meanwhile, from NBC 5…
One of the [JB Pritzker campaign] employees, Carolyn Mehta, said that the [blackface] photo was "taken completely out of context.

"The screen shot was submitted by a member of our staff who follows me on Instagram and is suing the campaign for $7.5 million," she said. "It was taken completely out of context. This is extortion in the purest form. In 2012, I worked on President Obama's re-election campaign. I worked on a team to register 10,000 new voters on the South Side of Chicago. I have been a tireless advocate for racial equality my entire life and anyone who knows me knows that."
The campaign worker who posted the image on Instagram was identified as Carolyn Mehta, the campaign's deputy Get Out The Vote director. She was also a field organizer for President Obama's 2012 presidential campaign in Virginia, according to LinkedIn.

So she should really ought to know that a photograph posted anywhere of a Pritzker campaign worker in anything resembling blackface would be criticized as racist.

But instead of the campaign directly acknowledging the racial insensitivity on display when a white person smears a black substance on his or her face and grins for the camera, it insisted the incident was not racial in nature.

That's adding insult to injury.
* Today's front page…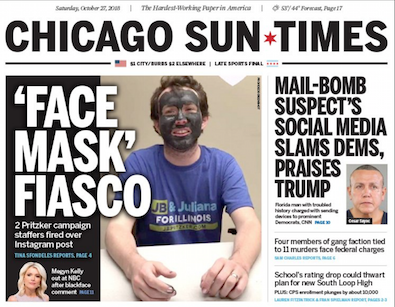 Oof.
* Other stuff…
* Long files defamation suit against Yednock: "Rep. Long is living in an alternate reality where his own party did not call on him to resign over a harassment allegation. In fact, rep. Long even admitted to the Ottawa Times on Sept. 20 that Republicans told him he was under investigation for sexual harassment. If Rep. Long has a problem with the contents of this ad, he should take it up with his own party," Yednock stated this morning.

* Dispatch-Argus Editorial: For Illinois governor: Pritzker: We backed Republican Bruce Rauner for governor four years ago because we believed he was the change agent needed to turn Illinois around. The state did see changes under the rookie governor. Unfortunately, too many things went from bad to worse.

* Costa Howard questions Breen's votes on gun-control bills: "Even though it passed, the governor did veto that piece of legislation," Costa Howard said during the forum. "So that was a nice political vote during a time when you were running against a candidate who has a Moms Demand Action gun sense candidate distinction, which I have received since before the primary."
1 Comment
- Oswego Willy - Monday, Oct 29, 18 @ 10:00 am:

Pritzker dumps another $10 million this weekend.

It's gets more and more expensive when gross negligence runs rampant in your campaign crew.

Pritzker spending $174 million… this is what it gets you 10 days out?

You get the Saturday… 9 days out… a picture in the front of the Chicago Sun-Times… a paid staffer… in black face… with a discrimination lawsuit… brought on by 10 other staffers.., still going on.

You haveta spend $174 million to defeat the most vulnerable and the worst Republican governor in America.

Why?

"If you look at the Sun-Times cover 9 or sobdays our from Election Day…"

Pritzker got milked, and by getting milked, and ad folks got paid, and pollsters got paid, staff got paid… everyone got paid… and JB Pritzker got a discrimination lawsuit 3 weeks out… and that Sun-Times cover to keep it alive.

California is roughly 2 1/2 times larger than Illinois, and Pritzker got soaked to be the "most money spent"… and gets discrimination lawsuits and a Sun-Times cover… when defeating Rauner "who failed"… never shoulda cost $174 million to defeat the most vulnerable incumbent in the United States.

But… we're covering up for colosssl failures… in own oppo, rolling out policy, and campaign personnel management…

… all three… all three fundamentals.

They better govern better if they win.

Can't just dump $20 million in a campaign account when an agency is being scrutinized.

Rauner tried that. How is that working out?



Sorry, comments for this post are now closed.