* Back in 1998, Sen. Chris Lauzen (R-Aurora) ran for comptroller. He won the primary, but lost the general to Dan Hynes. His Republican primary opponent ran a radio ad claiming Lauzen wasn't a certified CPA, and after the election was over he attempted to have his named changed to "Christopher J. Lauzen, CPA." He didn't succeed.
Lauzen chose to run for reelection in 2002 rather than run for comptroller again. He ran for Congress and lost and then ran successfully for Kane County Board Chairman, where he is today.
* But should Comptroller Susana Mendoza win her Chicago mayor's race, Gov. Pritzker would appoint her replacement and a special election would be held in 2020. So, Lauzen has apparently decided to plan ahead. He filed this paperwork earlier in the week…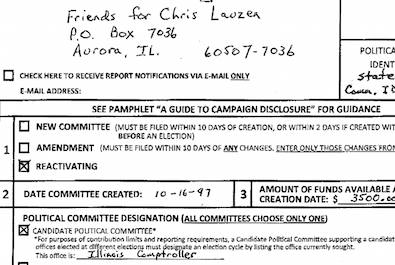 39 Comments




















































































































Sorry, comments for this post are now closed.