* Sun-Times…
Just weeks after spewing insults at each other during a divisive election, Gov. Bruce Rauner and Gov.-elect J.B. Pritzker thanked each other and voiced optimism for Illinois Monday evening during what was dubbed a "joint appearance" at the state's bicentennial celebration in Chicago.

While both were in attendance, Pritzker and Rauner did not appear on stage together during the Navy Pier show. And both left before the event concluded.

The event celebrating Illinois' 200th birthday marked the first time both appeared at the same event since the contentious election nearly four weeks ago.

Rauner spokeswoman Patty Schuh said both attended a veterans and VIP reception prior to the event. They chatted during the meeting with veterans, she said.
* Tribune…
Democratic Gov.-elect J.B. Pritzker on Monday thanked Republican Gov. Bruce Rauner for his service and tried to sound an optimistic tone at Illinois' 200th birthday party.

"On this occasion, I want to express all of our deep gratitude to Gov. Bruce Rauner, to Lt. Gov. (Evelyn) Sanguinetti and first lady Diana Rauner. Thank you," Pritzker said.

"We should all celebrate the 200 years of progress that we've made," Pritzker said. "But I want to say how important it is for us to look forward in this state. Our best days are yet to come in Illinois." […]

On Monday night, Rauner acknowledged Pritzker from the birthday celebration's stage and said it's been a humbling honor to be governor.

"Never will we give up trying to serve the people and make our system work for all of us so our children and our grandchildren can have a better future," he said.
A full roundup of the program is here.
* I heard it was pretty good, but sparsely attended…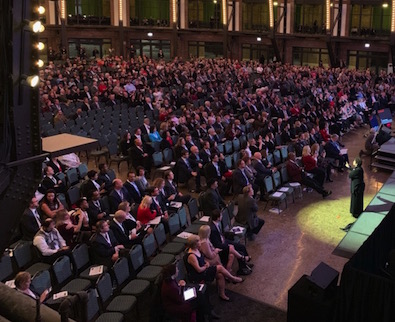 * The cake looked pretty awesome…
Rauner, Pritzker preach bipartisanship, unity at bicentennial celebration but leave party early https://t.co/nnQmiys6Ip by @hannahmeisel pic.twitter.com/z2XipEDaiC

— Daily Line Illinois (@thedailylineIL) December 4, 2018
39 Comments




















































































































Sorry, comments for this post are now closed.