* Only like three years late, but who's counting?…
At long last, Illinois is on the path to getting its next Legislative Inspector General. The ethics commission (a legislative panel) recommends Carol Pope, a former Menard County State's Attorney, circuit court and appellate court judge. Term would run March '19 - July '23

— Amanda Vinicky (@AmandaVinicky) December 18, 2018
* Got tired of waiting on a text version in lieu of the 20th Century pdf file they sent, so here's the release…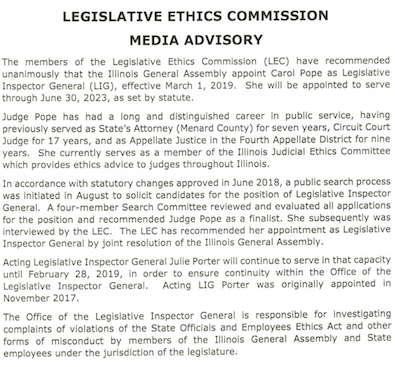 2 Comments
- Anonymous - Tuesday, Dec 18, 18 @ 2:55 pm:

It's great that she agreed to do this.

Is she taking a risk with her pension? Does the LIG gig pay less than her judicial post, that it might cut her retirement income? Or is that separate?

It's hard to get qualified people into some of these posts. It's good that they worked it out.




- Al Grosboll - Tuesday, Dec 18, 18 @ 3:51 pm:

Rich, this is an excellent selection. Carol is from my home community and she is a person of great integrity. She has served as States Attorney, Menard County's resident Circuit Judge and an Appellate Justice. Judge Pope was a no-nonsense judge. She is a straight shooter who is well regarded in the legal and judicial communities. Good pick.



Sorry, comments for this post are now closed.