* Crain's…
The state's pension funding is improving but not as fast as in other states, according to Moody's Investors Service, which warns that favorable economic tailwinds may subside.

Illinois' adjusted net pension liability dropped by an estimated 2 percent to 5 percent because of rising interest rates and better investment returns, the rating agency said in a report today. But "weak contributions and rising payouts" mean that Illinois continues to have the largest unfunded pension liabilities of any state, the report said.

"Like other U.S. public pension systems, Illinois' pensions remain vulnerable to stock-market volatility," Moody's wrote. "Illinois also cannot rely on continually rising interest rates to keep reducing the adjusted value of its reported pension liabilities." […]

Moody's said that among U.S. state plans that have issued figures this year, all saw more funding gains than Illinois' biggest, the $51.8 billion-asset Illinois Teachers' Retirement System, which covers 417,292 members. The adjusted net pension liability for the plan dropped by less than 3 percent, compared with a 14 percent average decline for Indiana's two teacher pension systems. TRS' unfunded liabilities actually increased by 2.1 percent, to $75 billion.
* And now the bad news…
Moody's has issued its adjusted net pension liabilities (ANPL) for the 50 largest local government (ranked by debt outstanding) for fiscal 2017, and most saw their unfunded liabilities rise due to poor investment returns and low market interest rates. Since most local governments report pension funding with up to a one-year lag, favorable investment returns in fiscal 2017 and 2018 will lead to a decline in ANPLs through many of those governments' 2019 reporting. Nonetheless, pensions continue to drive historically high leverage and elevated annual costs for some governments, and risks from potential pension investment losses are significant.

The report's highlights are:

ANPLs reached an aggregate $481 billion in fiscal 2017 for the 50 largest local governments, up 9% from fiscal 2016. Most individual governments' ANPL increases were more significant, while several governments that report more current pension data had ANPL declines. San Francisco's (rated Aaa/stable outlook) ANPL increased 82% due in part to recognition of certain benefit restorations from a judicial decision. New York City (Aa2/stable) saw the largest absolute decline (-$13.8 billion). ANPLs continue to far exceed bonded debt and unfunded other post-employment benefit (OPEB) liabilities.

Favorable investment returns and revenue growth will drive lower ANPLs and leverage ratios through many governments' fiscal 2019 reporting. Liabilities are also falling in cities such as Dallas (A1/stable) and Houston (Aa3/stable) due to benefit reforms.

Risks from pension investment volatility vary widely across governments. As of fiscal 2017, nine of the 50 largest had a greater than 10% one-year probability of pension investment losses amounting to at least 25% of revenues. Negative non-investment cash flow (NICF), which occurs when a pension system's benefit payments exceed its contributions, also constrains the ability of many funds to grow assets.

The combination of debt service, pension and retiree healthcare (OPEB) payments consumed more than 30% of some governments' revenues, but less than 15% for others. Highlighting the general weakness of government pension contributions, only 10 of the largest 50 exceeded our "tread water" indicator in fiscal 2017.

Unfunded OPEBs are becoming material for some of the largest local governments. Using new disclosures based on updated accounting rules for OPEBs, adjusted net OPEB liabilities are very large for Suffolk County, New York (Baa1/stable) but relatively insignificant for Texas schools and Clark County School District, Nevada (A1/negative).

This year we broke down the top 50 local governments into cities, counties, school districts, and special districts. After determining the dollar amount of the municipality's unfunded pension liabilities, we translate that number into a percentage of the municipality's revenue. The higher the percentage, the higher the unfunded pension liability for that municipality. Here are the top five in each category except special districts:
* Whew…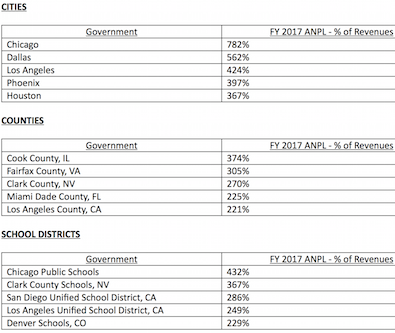 * Related…
* Hedge fund rebel to leave Illinois pension board - Marc Levine led a charge against hedge fund investing on two Illinois pension fund boards. Now he plans to step away as a new administration arrives in Springfield.
26 Comments













































































Sorry, comments for this post are now closed.