* From a letter sent to state workers by Mailee Smith, who is the Illinois Policy Institute's policy staff attorney. Click the pic for a larger version and the form to fill out…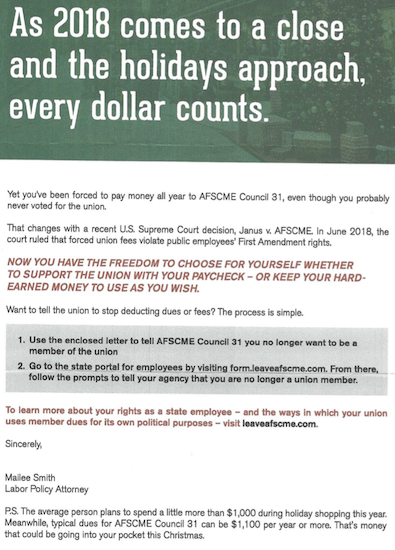 The ol' self-interest angle.
* From AFSCME…
The mailer (pictured) tries to trick AFSCME members into quitting their union as a way to put "money into your pocket this Christmas". Of course, what the IPI and Rauner really want is to dupe workers into leaving the union as a way to drain AFSCME's resources and prevent us from standing together against Rauner and the IPI's destructive anti-worker agenda.

This is just the latest in a series of ploys by IPI and their ilk who brought the anti-union Janus case, sent other phony mailers and even stole the identity of AFSCME local union presidents, activists and retirees in a desperate bid for legitimacy.

The tricks aren't working on union members here or elsewhere. In Illinois and across the country, AFSCME members are seeing through the IPI lies — and union ranks are actually growing in the wake of the Janus case as former fee-payers sign up and become dues-paying members.

So what to do with the IPI's junk mail? Trash it, recycle it, or use it to kindle your fireplace this Christmas season.
33 Comments


































































































Sorry, comments for this post are now closed.