* Patch…
Donning yellow jackets, Representatives Allen Skillicorn and Jeanne Ives spoke out Tuesday against the idea of Illinois becoming the state with the largest tax on motor fuel at a press conference in Chicago.

"The worst kept secret in Springfield is a rumored massive gasoline and diesel tax hike," Skillicorn said. "Just when gas prices are finally lower right before the holidays, greedy politicians, like the Grinches they are, seem all too willing to take more of our hard-earned money. Nothing like greedy politicians to ruin the holidays for middle class families." […]

"There seems to be strong support for a major infrastructure funding bill at the federal level," Skillicorn said. "We need to wait and see what is happening with transportation funding at the federal level and how Illinois will benefit from it. Let's think strategically here for a change. Rushing in to approve a massive gas tax hike just because fuel prices are low is reprehensible. We need to be strategic about funding roads, not predatory."
Ives hinted there are other options, if only state lawmakers would be more responsible.

"Illinois doesn't prioritize its spending," she said. "Look at the $200 million spent on the Obama Center. That money should be used for infrastructure, not a political center for the former president."
That money is actually being used for infrastructure spending around the center. And $200 million is a one-time drop in the bucket of what the state needs. If she can come up with a couple billion or so in permanent, perennial, do-able cuts, then she may be on to something.
* WBBM Radio…
Ives said the participants of Tuesday's news conference were emulating the Parisian protesters because they were fighting fuel taxes, too.
If they were "emulating the Parisian protesters" they wouldn't bother with a press conference.
* Photo that you may or may not wish to caption yourself…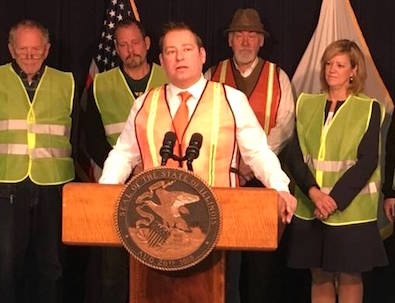 63 Comments




























































































































































































Sorry, comments for this post are now closed.