* January 2nd…
A freshman Democratic state representative is filing discrimination claims against House Speaker Michael Madigan after she says he sent women lawmakers to coerce her to vote for him as speaker.

Newly-elected Rep. Anne Stava-Murray, D-Naperville, said she plans to file discrimination charges against the long-time speaker with the Illinois Human Rights Commission, the Equal Employment Opportunity Commission, and the Illinois Office of Legislative Inspector General.

Even though she's yet to be sworn in, Stava-Murray says she'd been harassed on three occasions since her election in November, allegedly at the direction of Madigan.

"You can't harass someone to do something they don't want to do if they're sticking up for a federally protected class of people," meaning victims of harassment, she said Wednesday. […]

Stava-Murray said she sat through hours of calls from veteran Democratic women lawmakers in the days leading up to their gathering and subsequent call to support Madigan for House Speaker, something she says she refuses to do because of his poor handling of sexual assault victim rights under the dome.

"I got calls from legislators continuously telling me that there would be no value if I voted against the speaker, telling me that if I wanted to play the game, I needed to get on the game board that existed," she said.

The different lawmakers who called her all used uniform language, she said, as if it had been prepared for them, but she wouldn't disclose their names.
Legislators are elected officials, so their employers are considered to be the voters in their respective districts. That's why legislators aren't covered by the Illinois Human Rights Commission and the Equal Employment Opportunity Commission.
* As far as I can tell, nobody in the House has received a committee assignment yet. The new committee structure hasn't even been unveiled as of yet…
The rookie lawmaker campaigned on a vow to vote against Speaker Michael Madigan (D-Chicago) retaining his title. Within days of announcing her decision to a private House Democratic conference, Stava-Murray says she faced "next level retribution" from Madigan's allies.

Stava-Murray claims Madigan denied her a chance to sit on a committee, though the Speaker's office has not yet officially finalized committee assignments for the upcoming session. She also complained that Madigan gave other longer serving House members preferential treatment in deciding the House floor seating chart. […]

Stava-Murray said she intends to mask the origin of her ideas so they can survive the legislative process. She detailed how she plans to work behind the scenes to "do the leg work" and craft legislation, then ask other members to introduce her bills under their name because she fears Madigan won't allow bills with her name on them to pass out of committee.

"In some ways, I'm a pass through entity that makes my colleagues smarter," she said.
* "Bodily fluids"?…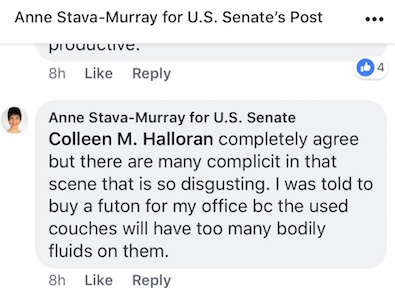 * And then came this…
Due in part to the environment for women in Springfield, Stava-Murray announced Tuesday that she would be running for U.S. Senate in 2020, a seat currently held by long-time Senator Dick Durbin, who has been rumored to be near the end of his tenure in Washington.

Stava-Murray made the decision to announce a run now in an effort to keep Durbin from winning re-election only to resign and allow the Illinois Democratic Party to appoint someone.

"If there weren't such a toxic culture in Springfield, in an ideal world would I have spent more than a few years as a state rep? Absolutely," she said. "I don't feel like I should have to go to an unsafe workplace for more than two years."

Stava-Murray is a survivor of workplace harassment and said that the experiences have left her with post-traumatic stress. She's committed to sponsoring legislation during her two years in Springfield that would give victims of sexual harassment in Springfield rights.
* More…
She said she's never met the veteran lawmaker but disagrees with his "turn of becoming more centrist."

"I think that he sort of writes off the progressive branch of the party, of which I identify myself with, as being unwilling to compromise, and certainly there might be some key players who aren't giving the progressive cause a good look, but in the most part what I see when I talk to my fellow progressives and Democrats in Springfield and other fellow progressive Democrats is a total willingness to work across the aisle."
Durbin eventually confirmed he was running.
* Last word…
Moderates like my opponent? Who are too busy playing political games to have a real talk with McConnell?

I work across the aisle and expect my Senator to do the same- not play the blame game as he has been. https://t.co/EHKVv6dAAP

— Anne Stava-Murray (@TeamStavaMurray) January 7, 2019
60 Comments



















































































































































































Sorry, comments for this post are now closed.