* Sheesh…
NotifyChicago: All Northbound lanes on Lake Shore Dr are closed from Monroe to Grand due to a CDOT Structural Emergency on the Bridge. Seek alternate route.

— Chicago OEMC (@ChicagoOEMC) February 11, 2019
Look closely two beams are cracked pic.twitter.com/sWpxkCI8pG

— Roseanne Tellez (@RoseanneTellez) February 11, 2019
WATCH LIVE: Sky 5 is live over Lake Shore Drive as crews work to repair bridge, shutting down traffic in northbound lanes https://t.co/UIuhBabg98 pic.twitter.com/QoXYkWPQxb

— NBC Chicago (@nbcchicago) February 11, 2019
* CBS 2…
City crews fixing a nearby light pole spotted the cracked beams Monday morning, and reported the problem.

Shortly before noon, the city's Office of Emergency Management and Communications said all northbound lanes on Lake Shore Drive were closed between Monroe to Grand as a result, and advised drivers to use an alternate route.

The Chicago Department of Transportation said crews were "assessing the situation" on the bridge, and would issue an advisory once they determine how long it would take to make repairs.
Thank goodness it was caught in time.
…Adding… Northbound Lake Shore Drive will be closed in that area at least through tonight, the Sun-Times reports.
*** UPDATE 1 *** Another one today…
Oak Park, IL: Bridge crews were called to the Oak Park Ave bridge after 8:30 a.m. after chunks of the bridge began to rain down on vehicles passing below:
-At least one vehicle had the rear window smashed
-@IDOT_Illinois crews closed lanes to repair and clean-up the debris pic.twitter.com/RwppXKsU9w

— Captured News (@CapturedNews) February 11, 2019
…Adding… A longtime reader/commenter sent this pic of Union Station today. Platform between tracks 2 and 4…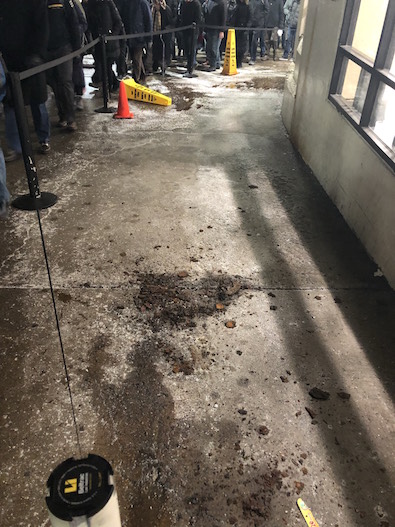 …Adding… Local 150…
This afternoon's failure and emergency closure of a northbound Lake Shore Drive bridge was dangerous, inconvenient, costly, and – most tragically – it was completely avoidable.

Bridge failures are only one of the inevitable results when our critical infrastructure is neglected and left in disrepair. The decay of the Lake Shore Drive bridges is among the most advanced in the City of Chicago, but this is far from the only bridge that is teetering on the brink of failure.

According to the American Society of Civil Engineers, more than 2,300 Illinois bridges are "structurally deficient," yet Illinois has been without a statewide infrastructure funding bill since 2009. ASCE gave an overall grade of C- to Illinois' infrastructure, including road, rail, utility and other vital infrastructure

"When the state fails to invest in our infrastructure, we are neglecting a problem until it becomes a crisis," said James M. Sweeney, President-Business Manager of the International Union of Operating Engineers Local 150. "This neglect can have deadly consequences, as we saw in the Minneapolis I-35 Bridge collapse, which killed 13 innocent motorists. How many must die in Illinois before our leaders treat this as the crisis that it is?"

"This is far from an isolated problem," Sweeney continued. "The next time you drive under a bridge, look up and ask yourself how safe you feel."
*** UPDATE 2 *** Reopened…
BREAKING:: @ChicagoDOT says all northbound lanes on Lake Shore Drive have reopened. Story to come.

— Crain's Chicago (@CrainsChicago) February 12, 2019
54 Comments

































































































































































Sorry, comments for this post are now closed.