* Press release…
Few will argue that Illinois has significant issues with the underfunding of its five public employee pension systems. In fact, many say the state faces a continuing "pension crisis."

However, three University of Illinois researchers argue that this "crisis" framework or mentality surrounding the issue actually impedes a sustainable solution. Their new report urges policymakers to rethink the conversation about pensions and Illinois' finances. Download the report.

"Illinois lawmakers have long sought a silver bullet solution that will not increase (or even lower) the state's required contributions while simultaneously shoring up pension systems' finances," write researchers Robert Bruno, Amanda Kass and David Merriman. "We view such a policy as unattainable and its pursuit a distraction from the job of responsible policymaking."

Bruno is director of the Project for Middle Class Renewal and is a professor in the School of Labor and Employment Relations at the University of Illinois at Urbana-Champaign. Kass is associate director of the Government Finance Research Center at the University of Illinois at Chicago. Merriman is director of the Fiscal Futures Project and a senior scholar at the University's Institute of Government and Public Affairs and a professor at the University of Illinois at Chicago.

Their paper makes three arguments: 1) that to resolve the pension underfunding issue the focus should be on long-term trends and peer comparison; 2) that a "pension crisis" is a situation in which the pension system is insolvent and unable to pay benefits – which is not the current case in Illinois; and 3) rather than a singular problem, there are two interrelated and in-conflict issues – the concern over pension finances and state operating budgets where expenses regularly exceed revenue.

Bruno, Kass and Merriman suggest that referring to the issue as a "crisis" leads to focusing only on short-term metrics and solutions. They urge state lawmakers to abandon the crisis rhetoric and to also abandon the practice of reducing that state's pension contributions in order to balance the state budget.

"Our goal with this paper is to change the conversation about pensions and the state's finances," the report says. "We believe this is important for addressing the challenges facing the state in a calm, thoughtful and deliberate manner."
* First, a chart…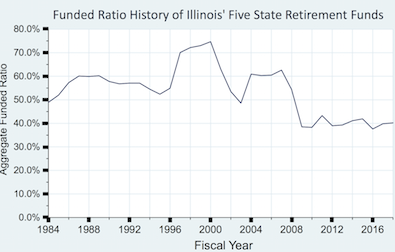 * Excerpt…
If future Illinois GDP growth is similar to growth over the past 20 years and if pension contributions increase in-line with the current actuarial projections, then the state's annual pension payments will stabilize at about one percent of state GDP over the next several decades.
In other words, it's relatively manageable, but only if you think current contributions are not too high.
* Gov. Pritzker obviously thinks current state pension payments are too high, so he's proposing several things to deal with it, including extending the ramp out an additional seven years, which will "save" the state $878 million (not "about $800 million" - the actual number is $878 million) this coming fiscal year and about that in each of six years afterward. Pritzker's "plan" fits right in to this section…
Assuming a "pension crisis" narrative has costs that are evident in Illinois' legislative history. Not only in how it impacts the finances of the pension systems but also in the way it predetermines approaches to the subject. As Section III highlighted there are two main issues that are interrelated, yet in-conflict: (1) the financial condition of the pension funds, and (2) the state's annual pension contributions as burdensome for the state budget. Importantly, in moments of political pressure to do something about pensions, what often materializes is legislation that alleviates the short-term pressure with the creation of a future, long-term problem. As a result, Illinois is stuck in a seemingly endless cycle of pension crises and problematic legislation.
Yep.
There's a whole lot more, so click here to read it all. If Amanda Kass is part of a study, you know it's good.
110 Comments









































































































































































































































































































































Sorry, comments for this post are now closed.