* From the Pritzker administration…
• Filers at or below $250,000 – 97% of taxpayers – will have lower tax bill

• 20% increase in current Property Tax Credit

• From approx. $500 million (@ 5.0%)to $600 million (@ 6.0%)

• Top rate of 7.95% for net income over $1.0 million

• Once income reaches $1.0 million, entire income is taxed at 7.95% rate
• Corporate Income Tax rate to match top Fair Income Tax rate (7.95%)

• $100 per child Child Tax Credit for:

• Single filers under $80K (phase-out starting @ $40K)
• Joint filers under $100K (phase-out starting @ $60K)
More in a minute.
…Adding… Click here for the entire presentation.
…Adding… The rates…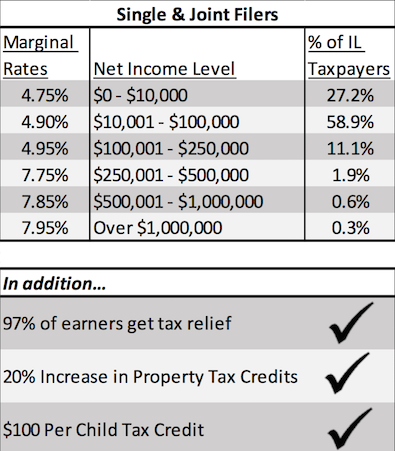 * More…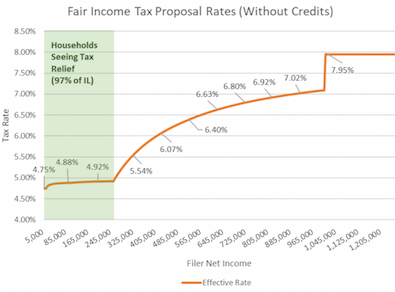 * Lower income…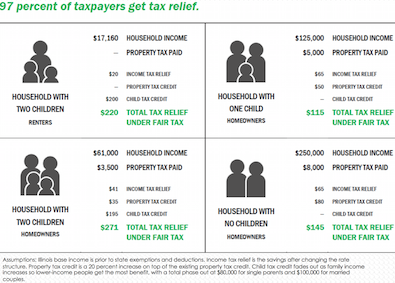 * Higher income…

The governor is planning a 2 o'clock press conference. Watch the live coverage post for immediate updates.

…Adding… House GOP Leader Jim Durkin…
The House Republican Caucus stands united in opposition to a $3.4 billion tax increase on Illinois families and businesses.
…Adding… Applying the top rate to all income once that income hits $1 million is unusual. Usually, graduated taxes only apply to income earned above a certain rate. That is the case with Pritzker's plan until taxpayers reach a million bucks. So, I'm assuming those close to that level will do whatever they can to avoid reaching a million dollars on paper, because that would hugely jack up their tax bills. But, hey, they could also hire somebody or give some cash to charity to stay below a million.
Also, the state's current corporate income tax rate is 7 percent. This proposal would raise that rate to 7.95 percent.
The current personal income tax rate is 4.95.
…Adding… If your property tax bill is $6,000 per year, you currently receive a $300 annual state income tax credit. That credit would rise to $360 under this plan. Sixty bucks a year ain't a lot of relief.
…Adding… Ideas Illinois Chairman Greg Baise…
"We can't trust Springfield politicians – the same people who in the last 8 years have raised taxes twice – with a blank check," Ideas Illinois Chairman Greg Baise said. "Today's proposal is just a massive jobs tax on Illinois families and will destroy the Illinois economy and further accelerate people fleeing the state."

Key Questions for Governor Pritzker

Are you going to lock these rates into the Constitution, so voters know EXACTLY what they are voting on?

Illinois has had 2 tax increases in the last 8 years - can you promise that these tax rates will not change?

Have you done an analysis on what this jobs tax will do to job creators?

In the past, you have said that this will pay for schools, infrastructure, pensions, and social services along with a property tax break – is this enough money because the math doesn't seem to add up.

Do you trust the legislature to be responsible or will this be another blank check to raise taxes whenever they want?
…Adding… Factor in the Personal Property Tax Replacement tax on corporations, and the rate corporations pay will rise from its current 9.5 percent (8.5 percent for partnerships, trusts, and S corporations), to 10.45 percent (9.45 percent for S corps etc.). That'll give us one of the highest in the nation.
…Adding… SEIU Illinois State Council President Tom Balanoff…
"Illinois' current tax code puts undue burden on the working people of our state, making it harder for them to put food on the table for their families and get ahead. Governor JB Pritzker campaigned on a promise to overhaul this unfair system, and today he is making good on that pledge.

"Governor Pritzker's plan lowers tax rates for 97 percent of Illinois taxpayers while making sure the wealthy pay their fair share. This proposal will put our state on the path towards fiscal sustainability and good governance.

"The janitors, healthcare and home care workers, security officers and more of SEIU support Governor Pritzker's fair tax plan, which will make Illinois a better, more equitable state for working families."
234 Comments





























































































































































































































































































































































































































































































































































































































































































































Sorry, comments for this post are now closed.