* Illinois Association of Regional Superintendents of Schools survey results of 527 out of 858 district superintendents…
Superintendents in 85% of the districts surveyed believed that they have either a major or a minor problem with teacher shortages, which is up from 78% from the 2017 survey. Substitute teacher shortages continue to be a particular concern for superintendents. About 5 in 8 (63%) indicated that they have a "serious problem" with substitute teacher shortages, while only 3% indicated that they have "no problems" with substitute teacher shortages. Among the 527 responding districts (61%), superintendents reported that 20% of all positions (1,032) listed for fall 2018 remained unfilled or filled by an unqualified professional. This resulted in 225 classes being cancelled.
* More from the report…
Teacher Shortage Intensity by County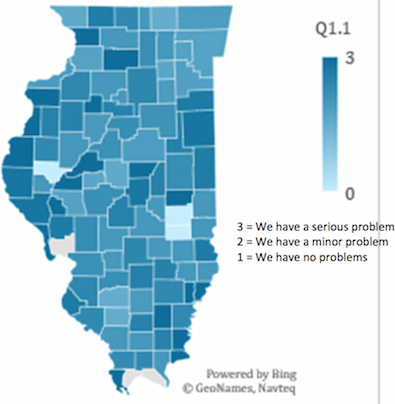 Substitute Teacher Shortage Intensity by County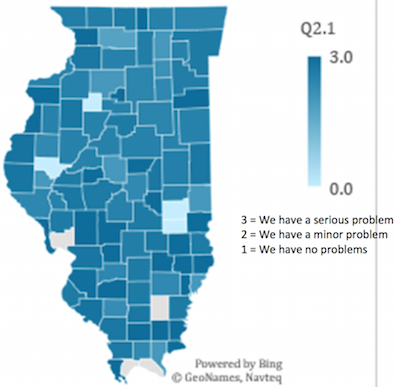 * Peter Hancock at Capitol News Illinois…
The report said shortages were reported in almost every subject area, with foreign languages, various special education fields and computer science leading the list of classroom subjects. There were also significant shortages of school psychologists and library and media specialists.

Shortages were also reported in every region of the state, although they were more severe in southern and central Illinois than in the suburban districts around Chicago.

In southern Illinois, 94 districts reported seeing "significantly fewer qualified applicants" than they did five years ago. That compares with 90 percent of the districts in central Illinois; 78 percent in northwest Illinois; and only 42 percent in the Cook County and surrounding suburbs.

As a result of those shortages, the report said 99 districts reported canceling a total of 225 course offerings due to a lack of qualified teachers, while 86 districts reported converting more than 200 classes to online learning because they lacked a qualified teacher for the subject.
* Back to the report…
Three key policy recommendations are presented. First, to alleviate the substitute teacher shortage, the process of substitute teacher licensing should be "less bureaucratic" and streamlined, especially for retired educators serving in a district of prior employment. Second, Illinois needs to expand programs for developing new teachers including support for Grow Your Own Teacher and Administrator initiatives throughout all of Illinois. Finally, by using existing data and collecting gap data we will have the ability for more confident predictions on shortages long term and identify, by district, the challenges and viable solutions for educator shortages.
47 Comments »












































































































































Post your comment... And please take a half second to come up with a nickname. It makes following the posts easier for everyone... Thanks