* Sun-Times…
And the governor on Tuesday said he believed "pushback" about his pension plan is simply a "misunderstanding" — while trying to link that criticism to the graduated income tax, his top priority this legislative session.

"I think there's a misunderstanding about what it is, because there's an element of people, of opponents, to doing anything. The people who also don't want the 'fair tax,' who don't understand that we are in a dire situation in the state in terms of just addressing our fiscal challenges," Pritzker said. "You can't do nothing. That is not an option anymore. We are going to address this challenge in the state of Illinois and that is my job."
I agree that some the criticism is coming from professional opposers who are making bank off doing and say anything they can to stop his tax proposal. But I don't belong to that crowd.
* The governor also talked yesterday about how he wants to transfer state assets to the pension system, something he's never really fleshed out with specifics. And then he addressed the question about his plan to short the pension systems $1.1 billion a year over the next 7 years by lengthening the payment ramp…
It really is designed to bend the cost curve going forward so that we're not just in a straight line for a $9 billion payment to a $19 billion payment in… 2045 and then 2046 it's like a billion and a half dollars.
* From the governor's budget walk-down…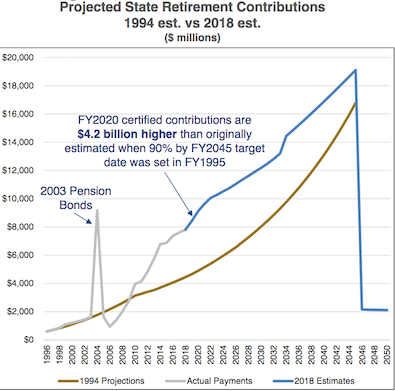 1) That isn't a "straight line" of projected state payments until 2045.
2) The real problem, as we've discussed before, is the ramp's last ten years or so. Pritzker can't "bend" that curve by lowering payments up front. That's a preposterous thing to say. He'll either make the curve worse or prolong the state's fiscal agony or both.
3) If the governor truly wants to "bend the curve," he'll abandon this irresponsible idea and work on a solution for twenty years from now. Put more money in up front via bonding, asset transfers, whatever. But do not reduce payments by over $7 billion to spend elsewhere and then pat yourself on the back for fixing a problem that you're only making worse.
65 Comments


































































































































































































Sorry, comments for this post are now closed.