* As I told subscribers earlier today, this letter was sent to several legislators. The Illinois State Police has been notified…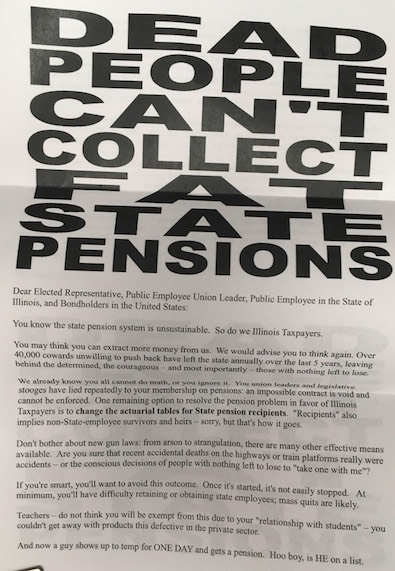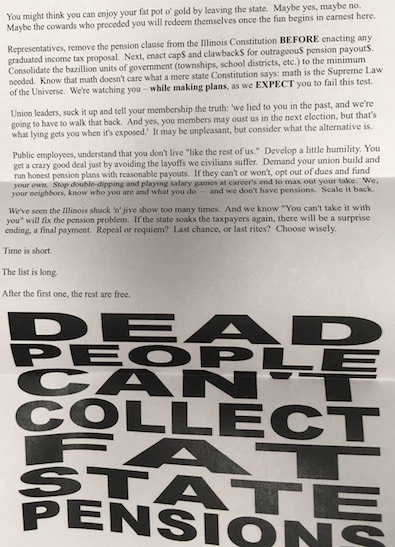 The above letter was postmarked in Champaign.
And people wonder why I've been urging a calming of the rhetoric on this topic for years.
*** UPDATE 1 *** Oy…
Not just legislators. We got one at @willpublicmedia today as well. Also postmarked Champaign. pic.twitter.com/2KYzukYmq4

— Brian Moline (@BMolineWILL) April 30, 2019
*** UPDATE 2 *** The IEA got one too The IEA president was only reacting to news of the letter. It didn't receive one that we know about. The IEA did, indeed, receive one of those letters…
Kathi Griffin, president of the state's largest teachers' union, says she's more concerned getting mental health services for the letter-writer than she is about her own safety.

"People who are well do not make threats like this. And I am hoping that nothing happens to anyone, and I'm hoping that we find whoever this person is, and I hope that w​e're able to help them," she says. "I feel confident that our police will find who is behind this, and I feel confident that this is someone who is acting solo, and I'm going to be just fine."

Earlier today, before learning about the letter, Griffin held a press conference to announce the results of a union-sponsored statewide survey. In an unplanned irony, the survey showed that 75 percent of Illinois residents want teachers to receive their full pension payment.
*** UPDATE 3 *** Finke…
The exact number of lawmakers who received the letter is unclear. Senate Democrats said they are aware of one member getting it. Senate Republicans said at least four members got it. Several House Republicans received it said spokesman Eleni Demertzis.

"Several of our members have received the letter, including Leader (Jim) Durkin," she said. "We receive or are subject to numerous letters of a threatening nature. Unfortunately, it seems the rhetoric and intensity of these letter campaigns has increased in recent weeks."
I know of two Senate Democrats who received the letter.
104 Comments























































































































































































































































































































Sorry, comments for this post are now closed.