* Dean Olsen at the SJ-R…
A key component of a bill that would legalize possession and sale of marijuana for recreational use in Illinois — erasing pot-related convictions for potentially hundreds of thousands of people — may violate the state Constitution, according to the group representing county prosecutors statewide.

The bill essentially would create legislative pardons, which are illegal, said Robert Berlin, president of the Illinois State's Attorneys Association.

Under the Illinois Constitution, only the governor can issue pardons, Berlin, the DuPage County state's attorney, told The State Journal-Register. […]

[Rep. Kelly Cassidy, D-Chicago] said automatic expungements provided for in the bill would affect only past convictions.

However, the bill's section on "future offenses" says circuit court clerks, arresting agencies and the Illinois State Police "shall expunge" twice a year the records of people found to have committed the outlined offenses as long as the cases have been closed.

Some law enforcement officials have questioned whether the bill is attempting a back-door revision of Illinois criminal law by providing for expungement of convictions for crimes that remain on the books.
I'm told the expungement section has been changed countless times and will likely be changed again. One tactic often used by opponents is to nitpick everything they possibly can. Remain calm.
Lots more in that story, by the way, so try to read the whole thing.
…Adding… Rep. Cassidy…
Expungement is a critical part of this. We've always said that the language about how this gets done is a work in progress. We have been talking to the prosecutors & law enforcement from Day One. It would be more productive to stay at the table and discuss process than to do this. One thing we're finding is that some folks are just against expungement but need a fig leaf – any fig leaf – to hide their objection to the idea.
Agreed on that last sentence.
* Meanwhile, we've already talked about the very real possibility that home grow will be limited only to medical cannabis patients. The Trib talked to NORML's guy…
The executive director of the longtime cannabis activist group Illinois NORML, Dan Linn, said he would have to consult with his advisory board on how to react to such a change.

"We'd have to look at whether we're still able to support the legislation," he said.

NORML did support the legalization of marijuana in the state of Washington, which prohibits homegrown pot for the general population, but many other states do allow homegrown, Linn said.

"People say to pass the best bill you can and come back later to try and make it better," Linn said. "But we've had significant problems with the (existing) medical cannabis program that we still have not been able to fix."
Vigorous advocacy is a good thing. It helps keep the stakeholders honest. But, in the end, it comes down to 60-30-signature. Remember the lessons of the past four years.
* Where's the money going?…
After regulatory costs are covered, 25 percent of proceeds from taxes and other revenue generated from recreational marijuana would be deposited in an account dubbed the Restoring Our Communities fund, a new pot of money that would provide grants aimed at reducing violence, particularly gun violence, and increasing economic development in communities ravaged by violence, poverty and high incarceration rates. A board including legislators, former inmates, experts in violence reduction, members of community groups, officials with several state agencies and representatives from the governor's office and attorney general's office would decide how the money is spent.

In addition to money for the new fund, 35 percent of recreational pot revenue would go to the state general fund, 20 percent would be allocated for substance abuse and mental health treatment, 10 percent would go toward paying the state's overdue bills, 8 percent would be sent to the state Law Enforcement Standards and Training Board and 2 percent would be spent on drug education and substance abuse awareness.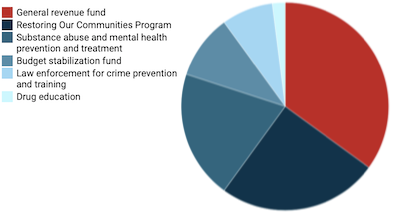 * Related…
* Not too long ago, a marijuana supplier was a drug dealer. Now it's a 'creditworthy tenant,' as Chicago weed companies grow: At least half a dozen marijuana companies in Chicago have moved or expanded their headquarters in the past several months. Some doubled their space or more. A couple moved downtown from the suburbs, a tactic deployed by companies in many industries to better woo talent.

* McLean County Sheriff Says No To Recreational Cannabis Bill, Home Growing
57 Comments










































































































































































Sorry, comments for this post are now closed.