[The following is a paid advertisement.]
Not everywhere you store your money is the same. Credit unions are not-for-profit, member owned cooperatives that exist to serve their members and community, meaning people pool their savings to provide each other affordable credit.
Benefits of credit union membership include:
Better Rates and Lower Fees – Because credit unions are member-owned, members reap the benefits of earnings. These earnings are returned to members through lower loan rates, higher savings rates and contributions to offset fees.
Better Financial Education - Because credit unions aren't focused on making a profit, they value educating each of their members on which financial option would be best for their situation rather than what would better the credit union. From July 2017 through June 2018, Illinois credit unions conducted 1,041 youth presentations that reached nearly 30,000 students and 549 adult presentations that reached over 14,000.
Better Service - Credit unions offer full and fair service to all their members and credit union membership tends to be concentrated in the working class of Americans. Overall, 61% of credit union members who rely primarily on their credit union for financial services have incomes between $25,000 and $100,000.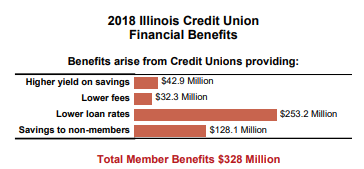 *data from CUNA
- Posted by Advertising Department


No Comments
Be the first to comment.
Sorry, comments for this post are now closed.