* Daily Herald…
Chicago and the suburbs contribute three-quarters of all income tax revenue collected by the state, and that would increase under a proposed graduated tax.

That's because 85% of tax filers who would pay higher rates under the two graduated tax proposals live in Chicago and the suburbs, according to a Daily Herald analysis of Illinois Department of Revenue income tax data. […]

Of the 18 Illinois ZIP codes where the average income is high enough to trigger a higher tax rate, 15 are in Chicago and the suburbs. […]

Communities where the average income tops $250,000 are Glencoe, Golf, Highland Park, Kenilworth, Lake Forest, Oak Brook and Winnetka, the analysis of reported income in the state's 1,450 ZIP codes shows. Some neighborhoods in Chicago and Hinsdale also have average incomes of $250,000 or higher. […]

All of the state's 13 billionaires live in Chicago and the suburbs, according to a 2018 Forbes magazine report.
Downstate has about 35 percent of the state's population, but just 15 percent of the pool of taxpayers who would face a tax hike under the current proposal.
* Keep in mind that this Center for Illinois Politics heat map is for taxpayers who make at least $200,000, so some of them will not face higher taxation…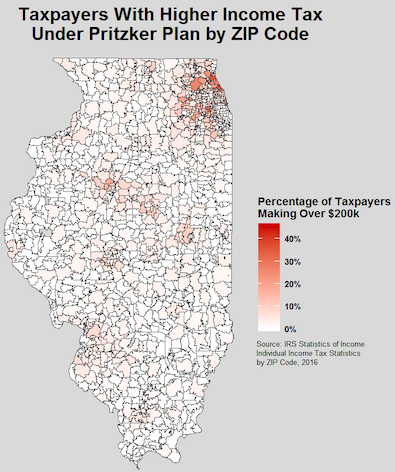 41 Comments


























































































































Sorry, comments for this post are now closed.