* Democrats voting "No" included Reps. Bristow, Hoffman, Reitz, Scherer, Walsh and Yednock. Democratic Reps. Kelly Burke, Hurley, Jones and Kalish voted "Present"…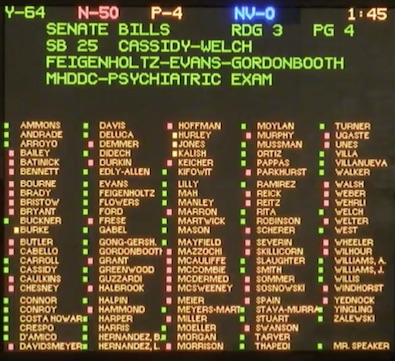 I'll post react on our live coverage post. Click here. The full legislation is here.
* Also, just because a bill didn't move at a specific time doesn't mean the votes aren't there to pass it, which is why I didn't post this story earlier today…
It is unclear whether Democrats have enough support in the Illinois House to pass an abortion repeal-and-replace measure. The bill was not called for an expected vote Monday in that chamber. […]

The legislation Cassidy filed Sunday was amended to reflect concerns brought by lawmakers, insurance groups, health care groups and others.

"I do believe that we've responded and created that level of comfort for enough of my colleagues that we're ready to move forward," Cassidy said Sunday before the panel of legislators met to debate the act.

Demand for action on the bill came after states across the country, including Ohio, Alabama, Missouri and Georgia, passed laws restricting access to abortion. Some of those states did so in the hopes of challenging the 1973 case Roe v. Wade, which legalized abortion across the country.
…Adding… Sun-Times…
The measure would repeal the state's current abortion law, adopted in 1975. In its place would be language in which certain elements are removed, such as: spousal consent; criminal penalties for doctors who perform abortions; waiting periods; and other restrictions on facilities where abortions are performed. The updated legislation, which passed a House committee on Sunday, also clarifies the definitions of viability and health. […]

The Reproductive Health Act also includes language that treats abortion as health care.

Many provisions of the state's 1975 abortion law have been enjoined by the courts, including criminal penalties for doctors who offered abortion care. The new law also repeals the Partial Birth Abortion ban, which imposed restrictions on doctors performing abortions on women who were 20 weeks pregnant or later. The ACLU says about 90 percent of all abortions are performed within the first 13 weeks of pregnancy.

Partial-birth abortions remain banned by federal law, except to save the life of the mother. The new measure does not change factors around partial birth abortions, Cassidy said.

Cassidy told lawmakers claims that doctors can perform abortions at any stage of the pregnancy are "medically and factually incorrect." It allows for doctors to make their own professional decision if a patient's health is at risk, which is already in current state law.
57 Comments










































































































































































Sorry, comments for this post are now closed.