* I'm told the Senate will recess for an Executive Committee hearing at around 2 o'clock this afternoon. The committee will take up the cannabis legalization bill (Senate Amendment 2 to House Bill 1438) at that hearing.
The Senate will reconvene at about 5:30 this afternoon. The plan is to run the cannabis bill on the floor after a few warmup bills.
* Hannah Meisel…
Republicans on Tuesday said they will likely provide "a handful" of votes to legalize marijuana now that a new amendment to SB 7 establishes a different path to expunge the records of those convicted of cannabis-related offenses — the governor's pardon power.

A week ago Republican leaders told The Daily Line no member of their caucus would vote for to the long-running effort to legalize marijuana.

State Sen. Toi Hutchinson (D-Olympia Fields) told The Daily Line that she backed the change to the bill's original language of automatic expungement of records via legislation to gubernatorial action.

In Illinois, a governor has the ability to pardon with "permission to expunge." If a person is granted a pardon, with permission to expunge, he or she can then file a petition to expunge the pardoned offense, according to state guidelines.

"The expungement piece…we boosted the constitutionality of what it is we're attempting to do and that was a significant concern for the Republican caucus and that brings folks back on board," Hutchinson said. "That was one of the biggest sticking points."

The original language in SB 7 dropped on May 4, and the Republicans who had been negotiating the bill for months — including State Sen. Jason Barickman (R-Bloomington) — began saying both privately and in the media that they could no longer support the bill. […]

"This is about to be the single-biggest piece of criminal justice reform in one piece of legislation in the country, and I would daresay the world," Hutchinson said. "This is big, this is big, and I didn't think this was going to happen. And I'm really proud of it. And nothing would make me happier than to see — if we actually make it to a bipartisan roll call because we tried and because it worked, that's a good thing."
This thing has legs, campers.
…Adding… Press release…
Americans for Prosperity-Illinois (AFP-IL) and the Reason Foundation issued a letter to lawmakers in support of the expungement reforms included in Senate Bill 7, which would allow for the legal cultivation, sale, and possession of cannabis in regulated amounts statewide. The groups also recommended needed reforms to the legislation in order for it the best achieve its goals. AFP-IL believes any effort to legalize recreational marijuana should enhance public safety, remove barriers to help individuals get a second chance, and be free of cronyism and overregulation.
The letter is here. There will be no amendments after Senate action barring a disastrous drafting error, however. The language is a Senate amendment to a House bill. Once the Senate passes it, the House has to either concur or non-concur.
…Adding… Some deets…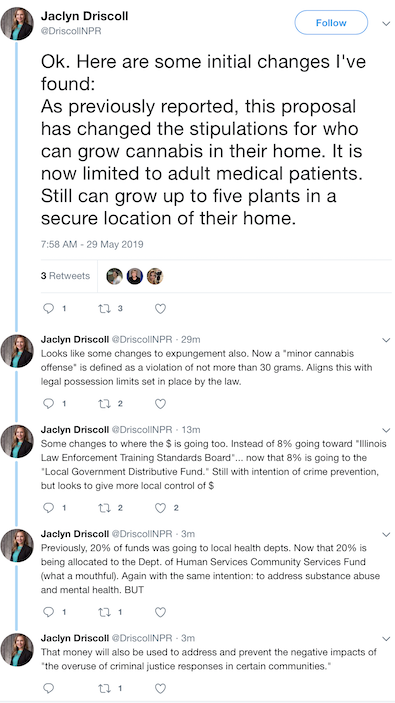 …Adding… Press release…
Legalize Illinois praised Clergy for a New Drug Policy today for a letter it issued calling on the Illinois General Assembly immediately to legalize recreational cannabis for adult use. The letter, signed by 58 members of the clergy, cites the social justice and public safety aspects of the bill currently under consideration as the most urgent to support it.

"As clergy, we care deeply about social justice. The criminalization of cannabis, even for simple possession, has crippled the lives of people of color disproportionately for more than four decades. This is why we – the undersigned – believe it is time to move to a system of legal, regulated and taxed adult-use cannabis in Illinois," the letter states.

"Current cannabis laws, fines, and arrests are carried out with staggering racial bias. The illicit market, which prohibition makes inevitable, continues to breed violence in our poorest communities all across Illinois," the clergy members wrote.

The letter also notes that "regulation would make Illinois a safer state. It would allow us to educate adults, informing them about what a product contains and enabling them to make informed decisions. Banning sales by law to those under 21 would help to limit access to our youth. Under prohibition, these measures are not possible."

Clergy for a New Drug Policy, led by Executive Director Rev. Alexander Sharp, also cited the bill's provisions that would provide expungement of past low-level cannabis arrests and convictions while allocating "funds to communities ravaged by the War on Drugs."

"We cannot wait any longer to make this the law of the land in Illinois. We urge you to vote yes on a regulatory system that works for all of Illinois," the letter concludes.
*** UPDATE 1 *** Good…
Attention Wakanna investors.

You might consider this the Van Pelt amendment:

A 2-year ban on state lawmakers, regulatory employees, or their direct family members from holding a financial interest in state-licensed cannabis companies. pic.twitter.com/qmNEhFfg5b

— Mark Maxwell (@WCIA3Mark) May 29, 2019
Other new things in IL marijuana bill: Information about licenses would become open public records, subject to state FOIA. #twill

— Peter Hancock (@PeterQHancock) May 29, 2019
*** UPDATE 2 *** Here we go…
Join us for LIVE coverage of the 3:00 PM Senate Executive Committee Hearing (HB 1438 - SA#2 Cannabis) @BlueRoomStream #twill #Illinois

— BlueRoomStream (@BlueRoomStream) May 29, 2019
*** UPDATE 3 *** Republican Sen. Jason Barickman…
I believe that the people of Illinois want our government to give individuals freedom over their life decisions. Cannabis use is largely a personal choice and the primary role of government should be to adopt appropriate safeguards to protect minors and the public when an individual's use puts others in harm's way. This legislation puts those safeguards in place.
Barickman and GOP Sen. Neil Anderson have signed on as hyphenated co-sponsors.
143 Comments












































































































































































































































































































































































































































Sorry, comments for this post are now closed.