* The legislation now goes back to the Senate for concurrence…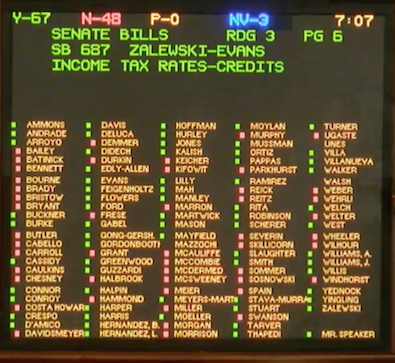 Democrats voting "No" were Reps. Bristow, Carroll, Costa Howard, Kifowit, Morgan and Reitz. Rep. Walsh did not vote.
…Adding… The Senate Revenue Committee will take up the rates change bill tonight.
…Adding… Press release…
Speaker Michael J. Madigan released the following statement Thursday regarding House passage of a Fair Tax rate package that will provide relief for 97% of Illinois taxpayers:

"The completion of the Fair Tax package ensures the people of Illinois can evaluate the proposal on the basis of facts and hard numbers, not half truths and special interest spin. As we have advocated for several years, the rates passed today are a restatement of our commitment to middle-class families that they will receive a tax cut under this proposal. This vote is a critical step toward House Democrats' pledge to balance the state budget while holding the line on middle-class taxes and stopping outrageous cuts to critical services like our schools, lifesaving breast cancer screenings, and Meals on Wheels for seniors. Critically, a Fair Tax allows us to accomplish this while also delivering relief for 97% of taxpayers statewide.

"There is more work to be done. While the Fair Tax takes steps to provide homeowners with property tax credits and expanded tax credits for families, House Democrats are going further by creating a Property Tax Relief Fund, because we recognize there is yet more we must do to ease the burden on middle-class families.

"House Democrats look forward to continuing our effort to build a stronger Illinois by building a stronger middle class. We will keep fighting to make taxes fairer for the middle class, strengthen our economy to make Illinois a center of high-wage job opportunities, and make health care more affordable."
…Adding… Press release…
Governor JB Pritzker released the following statement after the House passed fair tax legislation making the wealthy pay their fair share while 97 percent of taxpayers pay the same or less.

"With tonight's House vote, tax fairness has achieved an extraordinary milestone, and Illinois' middle class and those striving to get there are poised to benefit. I'm especially grateful to Rep. Mike Zalewski for shepherding this measure through the House, as well as all of those who have worked hard for years to deliver on the promise of a fair income tax. A fair tax will bring monumental change to this state by protecting working families. 97 percent of taxpayers will pay the same or less, and we will stabilize Illinois' finances. Opponents should be honest that they offer bad options – either cutting schools and public safety to the bone, or raising taxes on everyone by 20 percent. Instead, I stand firmly on the side of working families and fairness."
* The House is now debating this bill…
Creates the Illinois Property Tax Relief Fund. Provides that moneys in the Illinois Property Tax Relief Fund shall be used to pay rebates to residential property taxpayers in the State. Provides that the Fund may accept moneys from any lawful source. Provides that the State Comptroller shall calculate a property tax rebate amount for the applicable property tax year by dividing the total amount appropriated from the Illinois Property Tax Relief Fund by the total number of homestead exemptions granted for homestead property in the State. Provides that the property tax bills of non-delinquent taxpayers who received a general homestead exemption under the Property Tax Code shall be reduced by the property tax rebate amount.
The bill will take effect immediately, but won't start happening until 2021, presumably after the graduated income tax takes effect (depending on voter approval).
…Adding… The bill passed 96-18-1. The House is now debating this bill…
Creates the Property Tax Relief Task Force. Provides that the Task Force shall identify the causes of increasingly burdensome property taxes across Illinois, review best practices in public policy strategies that create short-term and long-term property tax relief for homeowners, and make recommendations to assist in the development of short-term and long-term administrative, electoral, and legislative changes needed to create short-term and long-term property tax relief for homeowners.
The bill was taken out of the record after Republicans complained that the task force membership had no guarantee of bipartisanship.
47 Comments












































































































































Sorry, comments for this post are now closed.