* Revenues are up, but net spending increases appear to be held to a minimum at first glance…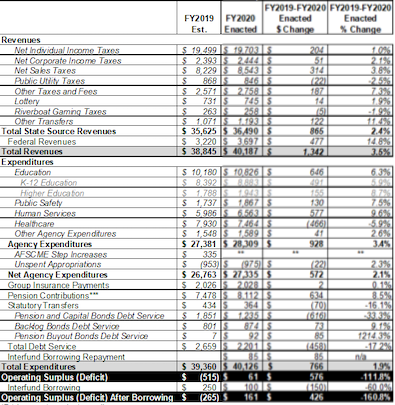 Healthcare expenditures appear to decrease because of the tax on managed care companies…
In the enacted budget, about $500 million of the total taxes paid by managed care organizations (MCOs) will be used in place of General Funds revenues
The state also paid off its Pat Quinn-era pension bond earlier this fiscal year, freeing up more than $600 million in base spending.
Those reductions allowed net General Funds expenditures to rise by just $766 million, or 1.9 percent, even though spending actually rose much higher than that.
* But is the budget really balanced? Wirepoints…
The state's pension funding laws, set up nearly 25 years ago by the General Assembly and then-Gov. Jim Edgar, require the state to pay $9 billion* to Illinois' five state-run pensions in 2020. "We are paying the full payment that is required under the ramp that was put in place in 1995, the statutory required payment," Pritzker said when he signed the budget.

But what Pritzker ignores is the amount the state's own actuaries say is required to properly fund Illinois' pensions in 2020, an amount that exceeds $13 billion. That's a total shortfall of $4 billion.
That's true, but that's the Edgar ramp. We'll eventually get to the top. Until then, it won't be pretty or cheap and folks will scream bloody murder.
* And what about the bill backlog?…
Despite these steps, [Comptroller Susana Mendoza] said it's important to "remain grounded" and focused on paying down Illinois' outsized bill backlog, which sits between $6 billion and $7 billion.

"We have $6.6 billion worth of bills that have not been paid yet, which means that we still owe that money; those are real liabilities that have been incurred," she said. "But this is by far, by far, the closest thing that we've seen to a balanced budget in probably over a decade."
That number sits at $6.4 billion today. The state gets to a 30-day payment cycle at somewhere around $3 billion. There's $1.2 billion in bonding authorization in the budget to pay off some of that debt in order to reduce borrowing costs. Illinois didn't get into this mess overnight and it won't get out of it overnight either.
14 Comments









































Sorry, comments for this post are now closed.