* Round Peg in Square Center…
The state's agriculture department is working to get the regulatory framework up and running for the adult-use recreational cannabis law.

After Gov. J.B. Pritzker enacted the measure last week, legal sales of recreational cannabis for adults 21 and older are expected to begin Jan. 1. But first, the rules and framework for recreational sales need to be completed.

Illinois Department of Agriculture Director John Sullivan said state officials want to make sure there's plenty of product for when retail sales begin.

"We're going to be overseeing and regulating the growing, the processing, the craft grow and the transportation," Sullivan said. "Big role, a lot of responsibility."

To do all of that, he said the department needs more people.

"Getting people in place is really going to be one of our first steps, because it's going to take more manpower to do that," Sullivan said. "So we're reviewing that to make sure we've got the proper staff there."
* But will there be shortages?…
To start, only the existing medical cannabis businesses will be allowed to cultivate, produce and dispense cannabis. On the retail level, that means 55 existing stores will have to meet the demands of a 13 million-person state with a massive tourist population. Each of these existing operators will be allowed to open a second store, but the realities of real estate site selection, permitting and build out means that none will likely open before adult-use sales begin on Jan. 1, 2020, and most won't come online until mid 2020.

But the biggest problem will be the lack of production capacity in the state. Illinois currently has a small medical cannabis program, with a current patient population of around 70,000, when compared to most states. The state has issued 19 production licenses, controlled by fifteen businesses (including my own company, 4Front, which operates a cultivation facility in Elk Grove Village) to cultivate and produce cannabis for the state's dispensaries. These businesses will all be allowed to transition to serve the adult-use wholesale market in time for sales to begin on January 1.

The immediate problem is that these businesses have built a physical production infrastructure designed to meet the demands of a 70,000-person medical market. They are nowhere near equipped to meet the market demand for 13 million residents and 58 million annual tourists to Chicago alone.
* The demand is obviously there…
Days after the Illinois legislature voted to legalize recreational cannabis, Nature's Treatment of Illinois, a medical marijuana dispensary in Milan, had a problem: People kept showing up at their store wanting to buy weed.

The bill had not yet been signed into law by Gov J.B. Pritzker — that wouldn't happen until late June. But the deluge of foot traffic forced employees to put up a door sign that recreational marijuana was not yet for sale.
* The New York Times…
And while low-level marijuana charges have plummeted, the racial divide in drug arrests has persisted. State numbers show that African-Americans in Colorado were still being arrested on marijuana charges at nearly twice the rate of white people.
But that statistic was offered without any sort of context. For instance, this is from the Colorado Independent…
In 2017, roughly one in 28 adult black men in Colorado was in prison. Put another way, African Americans made up 18 percent of the prison population and only 4 percent of the state's adult population, an incarceration rate that was seven times higher than the rate for white Coloradans.
* Rep. Villanueva talked about her mom during last week's press conference. She was being treated in a Catholic hospital, which wouldn't sign off on access to medical cannabis…
Rep. Celina Villanueva's mother was diagnosed with cancer last August. Her mother, who is undergoing chemotherapy, expressed interest in using medical cannabis for pain management, but hasn't been able to participate because she wasn't able to find a doctor at the facility where she receives treatment to sign off, Villanueva said.

"She's one of many people throughout this state and one of many people throughout this country that could not find relief within the cannabis program," said Villanueva, one of the sponsors of the recreational cannabis bill. "And that's something that I carry with me every single day. I did this for her. And for those people that unfortunately fall outside of that program that don't want to be on opioids in order to help the symptoms of their diseases."
* If I was the king, towns would have to hold a referendum before opting out to prevent the set in their ways types from doing this…
Recreational marijuana businesses won't be allowed in Morton.

After a brief discussion, Village Board members voted unanimously Monday to ban recreational marijuana growers, cultivation centers, and dispensing, processing and transporting facilities that could have set up shop in Morton after the passage last week of a new law legalizing recreational marijuana within Illinois.

"This is the tip of the spear," village attorney Pat McGrath told board members. "I'll be bringing more ordinances to you before Jan. 1, 2020, that deal with other issues caused by the state law, like public possession of marijuana."
* The Sun-Times has an occasional tendency to shift into tabloid-style "Reefer Madness" reporting and this piece is a good example of that…
The law legalizing the recreational use of marijuana beginning Jan. 1 provides an exemption to the Smoke-Free Illinois Act that banned smoking at workplaces and most public places because of the health threat of secondhand smoke. A similar exemption already was in place for cigar lounges.

That means smoking once again could become commonplace at public places in Illinois, according to the law's chief sponsor — but only of marijuana, not tobacco, which remains largely banned at workplaces and businesses.

Surprised to hear that, health advocates say allowing more smoking of any kind in indoor public places is a bad idea.

"This is a step backwards for the health of the people of Illinois," says Kathy Drea, head of advocacy for the American Lung Association in Illinois.
Um, no. I also talked with the bill's chief sponsor and she said the language was designed to allow for cigar bar type establishments. Local governments could, in theory, allow weed smoking in other places like bars. But nobody believed that would happen here and it was discussed during the House debate.
* The Sun-Times also profiled Rep. Kelly Cassidy (D-Chicago)…
As for legalizing pot, Cassidy said the restorative and social justice aspects of the massive cannabis bill are what brought her to the measure. But she has an "open mind" when it comes to using marijuana. Cassidy said she "looks forward to the day when it's not a novelty question" — "nobody asks me if I drink wine."

She also celebrated legalization by getting a tattoo just days ago: a cartoon of a paper bill waving hi. It features marijuana leaves and a sash that reads "bill."
Here's the little guy…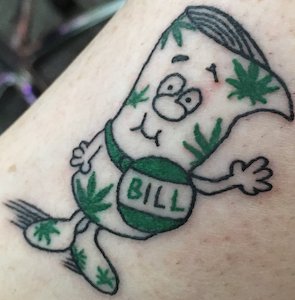 Caption?
*** UPDATE *** Sen. McClure…
Hi Rich,

I was just looking at your blog and noticed that it linked to a recent story on smoking marijuana in public from the Chicago Sun-Times. I spent quite a bit of time explaining to the Sun-Times on Friday afternoon that their analysis of the bill was incorrect. Instead of discussing my analysis of the bill in the story, they chose to quote me in a very misleading way. They did not allow for any of my analysis of the bill. I called and expressed my unhappiness with the Sun-Times this morning, and asked them to print the following response which I wrote last night:

I am writing in response to Tom Schuba's recent article about smoking marijuana in bars, restaurants, movie theaters, and other public places. His story quoted me out of context and failed to mention my assertion that the new recreational marijuana law will not allow people to smoke marijuana in such places. The law in question is the Cannabis Regulation and Tax Act (HB 1438).

The Act states in Section 10-35(a)(3)(F) that it "does not permit" the use of cannabis "in any public place." Additionally, it does not permit smoking cannabis "in any place where smoking is prohibited under the Smoke Free Illinois Act" (Section 10-35(a)(4)). Much later in the Act, it states that "[a] unit of local government…may regulate the on-premises consumption of cannabis at or in a cannabis business establishment within its jurisdiction in a manner consistent with this Act. A cannabis business establishment or other entity authorized or permitted by a unit of local government to allow on-site consumption shall not be deemed a public place within the meaning of the Smoke Free Illinois Act" (Section 55-25(3)). A "cannabis business establishment" is defined as a "cultivation center, craft grower, processing organization, dispensing organization, or transporting organization." The intent of that language is to allow local governments to approve smoke shop dispensaries where customers can sample cannabis and purchase it in the store like customers do at cigar shops.

The language does not permit marijuana use in any bar, restaurant, or movie theater. Why? Because none of these locations by themselves meet the definition of a "cannabis business establishment." The law only authorizes local governments to regulate the on-site consumption of cannabis at cannabis business establishments, and it does not allow local governments to regulate the on-site use of cannabis at other facilities.

Smoking marijuana is not just banned in places where smoking is prohibited under the Smoke Free Illinois Act. The law also does not permit the consumption of marijuana "in any public place." That is independent from the reference to a public place within the meaning of the Smoke Free Illinois Act. This is the language that we voted on in the Illinois State Senate, and this is what will take effect next year. People will not be allowed to use marijuana at bars, restaurants, or movie theaters.

State Senator Steve McClure (R-Springfield)
* Related…
* Here's what legal pot means for your local dope dealer: "It's good until you get arrested," he says.

* Barickman: Safeguards in place for recreational marijuana

* Bloomington-Normal Smoke Shops Prepare For Legal Marijuana
28 Comments



















































































Sorry, comments for this post are now closed.