* From the Boycott Du Quoin State Fair Facebook page…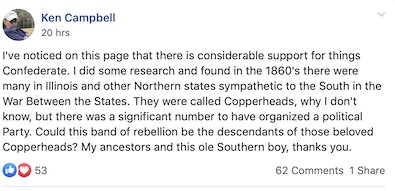 Family legend has it that one of my ancestors was deployed to southern Illinois during the Civil War to put down a Copperhead rebellion. The Copperheads were so vicious that the Illinois governor called out the militia during a state constitutional convention over fears that they might try to seize control of the government.
The QAnon types are also posting on the page, as well as your run of the mill racists, and more than a smattering of separatists. A few folks who've spoken up against the hate on the Facebook page were shouted down.
There are now 5,488 members of the group, including former state Sen. Sam McCann.
* From a Southern Illinoisan editorial…
[A boycott] would only be cutting off the region's nose to spite its own face, seeing as we really wouldn't be helped any to lose the economic boost the fair brings here annually. (And we can't help but fear poor fair attendance this year could give the state reason to disinvest in it.)
* The Question: Should the state stop funding the Du Quoin State Fair next year? Make sure to explain your answer in comments.
108 Comments



































































































































































































































































































































Sorry, comments for this post are now closed.