* The Southern…
A broad coalition is forming to push for state funding for a joint campus in downtown Springfield, to be shared by the University of Illinois Springfield and Southern Illinois University.

The effort originated with state Sen. Andy Manar, who introduced legislation in January requesting $50 million for an SIU facility in the state capital. […]

"We put several opportunities on the table [at a July 9 meeting convened by Manar] — what would go in this building and on this campus, including initiatives related to medicine and law, social service, management of governmental intern positions, public health and policy, and so on," said SIU Interim President J. Kevin Dorsey. "Collaboration between SIU, the School of Medicine and UIS was seen as critical."

The Springfield university is already seeking to bolster its downtown presence via a new "Innovation Hub," funded within the University of Illinois's $500 million Discovery Partners Institute initiative. […]

"Our initial conversations have been about the 'Y' block, but as the conversations unfolded and as resources have become available through the recent capital bill … it's beginning to evolve into the development of a mini-campus of several blocks in the downtown area," possibly including student housing, Van Meter said. "No prospect has so ignited as the possibility of establishing an SIU presence and the law school's presence in the community."
Check out the whole story if you can.
* If I was king, I'd put that mini campus just south of the Statehouse in the area bordered by Edwards on the north, Lawrence on the south, College on the west and 2nd St. on the east. Not every building would have to go. You'd definitely want to keep some of them. But there's a lot of empty space and business and office locations which have been difficult to develop over the years…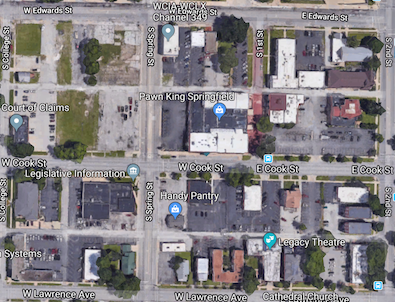 And since the SIU law school wants to use its potential Springfield campus to offer "classes, support to law students interning in the capitol, and continuing education for legal professionals," that would be a great spot.
The area just north of downtown near the medical district has some possibilities as well.
Your thoughts?
48 Comments















































































































































Sorry, comments for this post are now closed.