* We've been talking a lot about Sterigenics, so I asked yesterday for a chart comparing the ethylene oxide regulations in the bill sponsored by House Republican Leader Durkin and signed into law by Gov. Pritzker with the additional regulations included in the consent order that was agreed to by Attorney General Kwame Raoul, DuPage County State's Attorney Robert Berlin, the IEPA and Sterigenics. Here's what the AG's office compiled. Click the pic if you need a better image…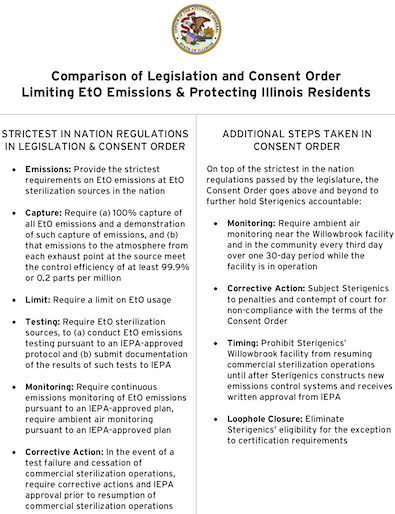 I followed up to ask about that loophole closure, which AG Raoul mentioned yesterday…
The new law contains certification requirements that currently apply to Sterigenics, but the law contains an exception. Sterigenics could have qualified for the exception if it proved to a court that the findings of the seal order were without merit. The consent order takes away Sterigenics' ability to even make this argument in court. As a result, Sterigenics no longer has the ability to qualify for the exception to the certification requirements.
No Comments
Be the first to comment.
Sorry, comments for this post are now closed.