* From the Illinois Republican County Chairmen's Association's Facebook page..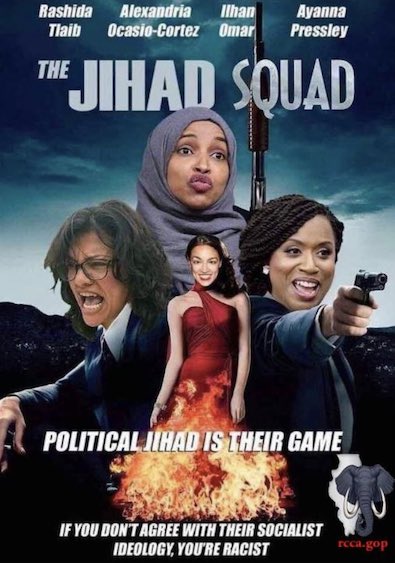 How some people can be racists and claim to be victims at the same time never ceases to disgust me.
* We live in a diverse state. You can't win statewide by being stubbornly monocultural. And suburbia, as a whole, no longer rewards those who sow racial division and discord. So the intra-party condemnations were swift…
I've reached out to several @ILGOP members for reaction. First one to respond was @SenBillBrady: "This type of post has no place in our political discourse. I am pleased it's been taken down, and remain hopeful we can debate our political differences in a respectful manner." https://t.co/QM9UEA17ku

— Mark Maxwell (@MarkMaxwellTV) July 21, 2019
New from House Minority Leader Jim Durkin: "The post was irresponsible, disrespectful, and wrong. The imagery and rhetoric that was used hurts our democracy and does nothing to move our state or our nation forward. Those responsible have no place in the Republican Party."

— Mark Maxwell (@MarkMaxwellTV) July 21, 2019
New from Rep Tony @McCombieforIlli:
"The post is horrendous and I totally reject this behavior! As soon I became aware of the post, I reached out to several people asking that it be removed. This post was not drafted by like minded people I align myself with…" (1/2) more

— Mark Maxwell (@MarkMaxwellTV) July 21, 2019
In his nomination speech at the '84 RNC he said, "In the party of Lincoln, there is no room for intolerance and not even a small corner for anti-Semitism or bigotry of any kind." That year, President Reagan was re-elected in a landslide and won 49 of 50 states.

— Tom Demmer (@tomdemmer) July 21, 2019
* I'm told Shaw was out of town the other day when the item was posted to Facebook. Four or five people in the group had administrative permission to post stuff on the page, but there was supposed to be a process in place and it wasn't followed. That, anyway, is their story and they're sticking to it in these times of strife…
Mark Shaw, the Lake County GOP chairman who heads the state county chairmen's group, said the posting was "not authorized by me" and said he was "sorry if anyone who saw the image was offended by the contents."

Shaw said the post had been deleted, and he called it an "unfortunate distraction" from the ideological issues involving the four progressive congresswoman.

On Facebook, Shaw called the posting "unauthorized." Then he explained how the group has a "multistage, approval process for all social media posts on any of its social media properties." That process, he said, is being "reevaluated."
* But not everyone was on board with the condemnations and apologies…
Skillicorn's response to @CljMitchell calling for Republicans to speak out: "I find it ironic that quite a few people in Democratic Party hurl the term racist at ideological opponents when they lose an argument. This devalues real racism and further tears our nation apart."

— Mark Maxwell (@MarkMaxwellTV) July 21, 2019
New from @JeanneIves: "That organization has nothing to do with the Ives Campaign. Contact Mark Shaw who I believe is the Chairman of that organization for a response."

I have, and he hasn't responded. Ives helped install Shaw, and I've asked her again if it's racist or bigoted.

— Mark Maxwell (@MarkMaxwellTV) July 21, 2019
The GOP congressional delegation, all Downstaters and exurbians, remained silent.
…Adding… Greg Hinz…
Schneider hasn't returned my phone and email messages. Nor has Shaw, who said in a Facebook post that the "Jihad squad" poster was unauthorized by him. But party sources I talk to seem to have a pretty good idea of what really happened here, and it's worth noting that the same poster appears to have been retweeted by the Lake County GOP, where Shaw is the chairman.

Either way, instead of talking about how to win as a minority party in this state, or about how Democrats have messed up, Illinois Republicans today are having to explain why they're not as bad as they look. Above and beyond the moral considerations, that's not helpful politically.
Nope.
* Related…
* NBC Nightly News: Illinois GOP group deletes post depicting Democratic congresswomen as 'The Jihad Squad'

* Illinois GOP group removes post calling congresswomen 'Jihad Squad'

* Illinois Republican leaders denounce 'jihad squad' post on GOP Facebook page

* Republican group's 'Jihad Squad' Facebook post draws condemnation

* Dems Blast Republican Group's Facebook Post Targeting Ocasio Cortez, Omar

* The 'love it or leave it' nonsense: Chicago Daily News columnist's argument still rings true 50 years later: Nobody should be faced with the mean choice of accepting conditions as they are or abandoning the place he has grown up in. We not only have a right, we have a responsibility, to make our environment as just and as flourishing as our Founding Fathers declared it must be if it were to live up to its aspiration as "the standard of the world."

* Voice of The Southern: There are some things more important than politics: Aside from the thinly veiled bigotry, the mean-spirited nature of the president's remarks, the undeniable element of bullying are nearly impossible to overlook — unless you are a congressional Republican. The House of Representatives voted Tuesday to condemn the president's remarks. The vast majority of Republicans, including local representatives Mike Bost and John Shimkus, chose to not condemn the president's remarks. In today's hyper-partisan atmosphere, that's not surprising, but it is still disappointing.
74 Comments





























































































































































































































Sorry, comments for this post are now closed.