* From a reader…
Hey Rich. FYI some high comedy on the Boycott DuQuoin Facebook page amidst all the racism and off-topic posts. Apparently Black Diamond Harley who is hosting the band instead of the fair has altered the band logo without their permission to replace the rebel flags with American flags, and the Facebook group is going ballistic. My favorites are the amateur lawyers spouting legal theories for the band to sue on when the poster can barely spell.
* From the Facebook page…
I don't know if anyone else noticed but I did. Black Diamond took it upon themselves to alter the Confederate Railroad image by removing the Confederate flags & adding the American flag. Dont get me wrong I love Old Glory. But wasn't this supposed to be a form of protest against the liberal censorship of this band. Black Diamond scheduled a concert for them & we are boycotting the fair because of the censorship but now BD has jumped on the PC bandwagon & CENSORED the band's album cover……WOW!!! The Band could of done that themselves & still be playing at the fair…..THE MESSAGE GOT LOST SOMEWHERE!!! Oh well they have a sold out show, guess the message doesn't matter….. UGH!!!
* The evidence…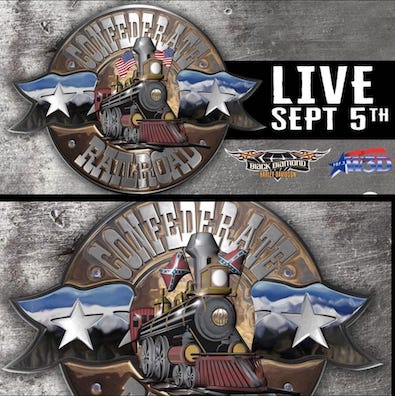 * A few of the 81 comments…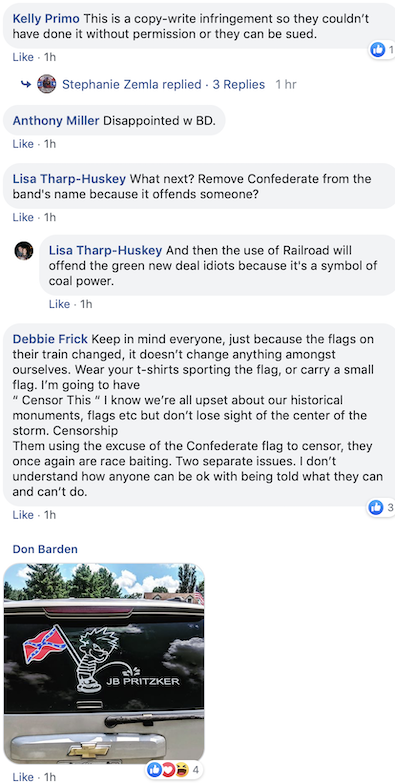 * The walkback…
UPDATE:: A BIG THANK YOU TO BLACKDIAMOND FOR ACTING SWIFTLY & RECTIFYING THIS SITUATION!!
ENJOY THE SHOW FOLKS!!! THANK YOU BLACK DIAMOND!!!
This isn't gonna end well.
59 Comments
















































































































































































Sorry, comments for this post are now closed.