* Sun-Times…
State Sen. Tom Cullerton has been removed as chair of the Illinois Senate's Labor Committee, just days after being charged in a federal indictment for allegedly being a ghost payroller for the Teamsters — to the tune of $188,000 in salary benefits and $64,000 in health and pension contributions.

Cullerton will instead chair the Senate's Veterans Affairs Committee — a decision made by Illinois Senate President John Cullerton, who is a cousin of the Villa Park Democrat. Tom Cullerton will still serve as a member the Labor Committee, however.

The shift in leadership posts ensures Tom Cullerton won't lose any legislative compensation.

"After a discussion, it was a mutual decision that this was for the best," John Patterson, spokesman for Senate President John Cullerton said in a statement.
* Sun-Times…
A federal investigation that resulted in an embezzlement and conspiracy indictment announced Aug. 2 against state Sen. Thomas Cullerton hasn't cost him the support of Illinois Senate President John Cullerton, a distant cousin.

In his first public comments since the charges were announced, John Cullerton told the Chicago Sun-Times the Villa Park Democrat remains "a valued member of the caucus and a friend of mine" — and declined to say whether federal prosecutors have contacted him.

Nor has the investigation turned off the campaign-money spigot for the now-indicted senator.

Accused of taking $188,000 in salary and other pay plus additional benefits from the Teamsters union despite "doing little or no work," Thomas Cullerton has raised about $30,000 in campaign contributions since the first news report, in April, that he was under investigation, campaign-finance records show. Dozens of people and political groups have made contributions since WBEZ Chicago broke the news the U.S. attorney's office in Chicago had subpoenaed the Illinois Senate for Thomas Cullerton's legislative attendance and travel records, among other documents. […]

Asked whether he has been contacted or interviewed by federal agents or prosecutors investigating his cousin in the widening corruption probe that ensnared Chicago's former top Teamsters union official, John Coli Sr., who is now cooperating with prosecutors, John Cullerton said: "I just don't want to answer that question … I don't think it'd be good to talk about the case at all because it's pending. I just don't want to go there."
* ILGOP…
"Sen. Cullerton must resign immediately. He may be hoping Illinoisans will forget about his criminal behavior, but the people of this state are fed up with corruption at the hands of its public officials. The self dealing must end now if citizens are ever going to put trust in their government to work for them and not the political ruling class." -Tim Schneider

Illinois Republican Party Chairman Tim Schneider called on Sen. Tom Cullerton to resign last week after it was reported by the Chicago Tribune that the Democrat legislator has been indicted by federal prosecutors. Since then, it's been business as usual for Illinois Democrats as Cullerton will be arraigned in US District Court this Wednesday - Governor's Day at the State Fair.

Chairman Schneider is shocked at the silence from Illinois Democrats and especially the complimentary words of Senate President John Cullerton, who called his indicted cousin 'a valued member of the caucus and a friend of mine'. President Cullerton didn't just stop at nice words, he also cut Sen. Tom Cullerton a sweet deal, removing him from one committee chairmanship and giving him another - keeping in place the $10,500 pay hike chairs receive.

Schneider responded, saying, "The shamelessness of Senate President Cullerton's words and actions are a slap in the face to every Illinoisan. Embezzlement and conspiracy come with jail time for regular people. For a Democrat senator, those crimes come with a new committee chairmanship and praise. Are there any Illinois Democrats who will speak up and do the right thing?"
…Adding… Hot off the presses…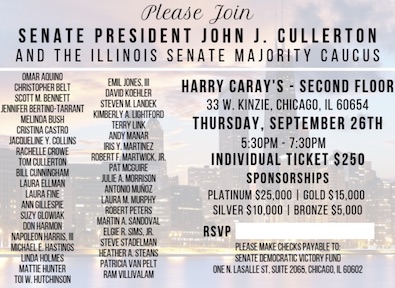 Status quo.
29 Comments






















































































Sorry, comments for this post are now closed.