* Bernie…
[Anthony Sarros, executive director of the ILGOP] said that a banner, a flag and signs promoting President Donald Trump were stolen overnight from the Republican Party of Illinois' tent at the Illinois State Fair. […]

Gone, he said, was an eight-by-four foot banner with Trump's name and the words "Make Illinois Great Again." A three-by-five foot flag with wording "Keep America Great" and "2020" was also taken, as were about 20 yard signs.

"Weirdly enough, we have a life-size cutout of the president, and that was still there," Sarros said. "That was zip-tied around the center pole," he added, so it's possible it couldn't easily be taken. The entry flap to the tent is also zip-tied each night.

Sarros said the party was filing a police report.
* Maxwell…
"This is indicative of political discourse at the moment. It's unfortunate and it shouldn't happen. We urge the person who stole the items to return them and engage in more productive political activities." - Joe Hackler, @ILGOP spokesman.

To be clear, no one knows a motive yet.

— Mark Maxwell (@MarkMaxwellTV) August 13, 2019
* Meanwhile…
A dispute arose last week over website URL's in the 6th CD GOP primary, and Monday the plot thickened. First, Republican candidate Jeanne Ives posted accusations on her Facebook page that her primary opponent Evelyn Sanguinetti's campaign had pulled a URL switch.

Evelyn Sanguinetti told Illinois Review her campaign wasn't guilty of Ives' accusation:

"I checked with all my staff, vendors, and anyone associated with my campaign and confirmed we do not own any websites with Jeanne Ives' name. I do not know who owns that URL. Honestly, Jeanne really should have just called me to ask if I did this before spreading a lie about me. We are both Republicans and we are better than this pettiness," Sanguinetti said.

Ives' described the maneuver as "petty, immature and dishonest"
From Ives…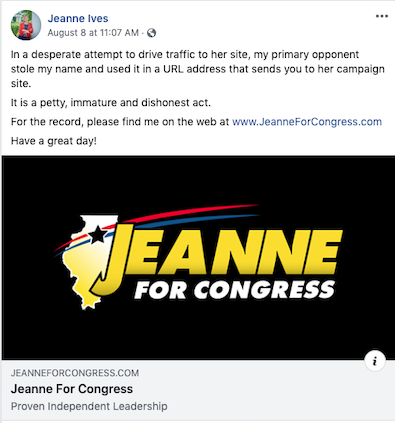 It's standard procedure to secure lots of URL variations on one's name before announcing a candidacy, however.
24 Comments







































































Sorry, comments for this post are now closed.