* Tribune…
Cresco Labs is renovating its 56 marijuana dispensaries around the country, including five in Illinois, and reopening them under a single brand name: Sunnyside.

The dispensaries will be welcoming and bright and will create room for customers to learn about the products, said Joe Caltabiano, president and co-founder of the Chicago-based cannabis company. There will be light wood tones and sunflower-colored accents.

The idea is to make the marijuana purchasing experience more inviting and warm — that's where the name Sunnyside came from, Caltabiano said. Marijuana retail locations often have opened in industrial areas instead of more highly trafficked retail corridors, he said.

"We want this store to fit in the retail corridors that exist within the city of Chicago and the surrounding areas," he said. "As you're walking down the street and seeing the new retail stores pop up and the new retail concepts that come, you can kind of figure out where those stores typically go. We don't want this to be different."
* Artist renderings…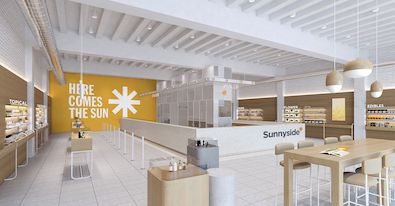 * Sun-Times…
"Sunnyside wants to feel more like a national wellness chain than a dispensary. Think of a Whole Foods or Sephora … but for cannabis. It's the new generation of cannabis shopping," the company said in a statement announcing the change.

"For far too long, I think cannabis has been relegated to the industrial corridors and the parts of cities where traditional commerce does not exist," Joe Caltabiano, Cresco's co-founder and president, told the Chicago Sun-Times. "So we're excited to have cannabis be in the center of the commerce parts of the city where consumers go to buy coffee and where consumers go to buy their retail products."

In addition to the makeup retailer Sephora, Caltabiano also cited the Apple Store as providing design inspiration, noting that both chains offer customers an inviting environment to learn about products. The first Sunnyside dispensary is slated to open in November in Philadelphia, and additional storefronts will follow in Illinois, Florida, Ohio, Arizona, Massachusetts and Michigan.
That's a really good idea and I hope other companies follow suit. It's past time to remove the stigma from this product. Get them off the back streets and out of the industrial corridors.
* More…
A public notice appeared recently in the window of John Barleycorn tavern in the Wrigleyville neighborhood — less than half a mile from MedMar Lakeview — noting that a Cresco-owned venture intended to "establish a medical cannabis dispensary" there. The move would require zoning approval.

Chicago-based Cresco has been looking to move the dispensary to a larger spot to accommodate growing patient count and demand for medical marijuana, said spokesman Jason Erkes.
* And…
A bill signed by Gov. J.B. Pritzker this summer makes recreational marijuana use legal in Illinois starting Jan. 1, and sets the stage for existing medical dispensaries to expand their physical presence. The 55 medical dispensaries currently operating in in Illinois can apply to sell recreational marijuana at their stores. They also can open a second dispensary.

One opportunity being eyed on the Mag Mile, according to real estate sources, is the former Apple store at 679 N. Michigan Ave.

The space is controlled by Chicago-based Water Tower Realty, a small, local real estate investor, through a long-term ground lease. The multi-level, 30,000-square-foot space has been vacant since Apple moved its Mag Mile flagship south to a new building along the Chicago River in October 2017. […]

Many property owners are rolling out the welcome mat, viewing cannabis as a fast-growing retail concept, said Dan Molnar, a broker at Baum Realty Group who is representing marijuana company Cresco Labs in retail leases in the Chicago area and other cities.
32 Comments































































































Sorry, comments for this post are now closed.