* Press release…
Illinois Rising is a new project of America Rising PAC dedicated to holding Illinois Democrats at the state and federal level accountable through video tracking, research, and strategic communications. This system will ensure that Democrat candidates must account for their policies and actions.

"Illinois Democrats at the highest reaches of government are continuously under investigation and promoting far-left policies including increased taxes and the most extreme late term abortion bill in the country. Illinoisans are already among the highest taxed citizens and deserve better from their elected officials. Illinois Rising is dedicated to holding Democrats accountable for their agendas and campaign promises and exposing the hypocrisy of their policies," said Sarah Dolan, Executive Director of America Rising PAC.
Dolan worked briefly for US Sen. Mark Kirk after a stint with New Jersey Gov. Chris Christie.
* I told her the press release was a bit vague and asked if she would be targeting anyone in particular in Congress, the state legislature or statewides. Dolan's response…
All of the above
* From Source Watch…
America Rising is a Republican opposition research organization that was co-founded in spring of 2013 by Matt Rhoades, former campaign manager for Mitt Romney, along with Tim Miller and Joe Pounder, two staffers who worked for the Republican National Committee.[1] America Rising describes itself as "an entity that is focused on solely holding Democrats accountable for their actions and records using research, candidate tracking, rapid response and digital tools," according to a statement by Rhoades. It focuses on tracking statements by Democrats "in hopes of catching gaffes and flip-flops and collecting an archive that can be mined for hypocrisy and errors," as described by Slate.

America Rising is comprised of a "super PAC" (America Rising PAC) and a limited liability company that can legally work directly with political campaigns and committees.
* Its Illinois website is so far mostly just aggregated news stories about Democrats…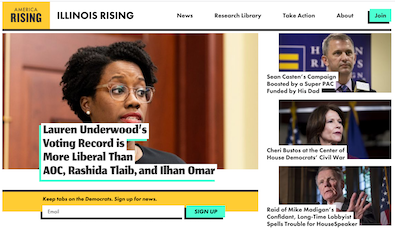 26 Comments













































































Sorry, comments for this post are now closed.